Printable Templates - Thanks for Staying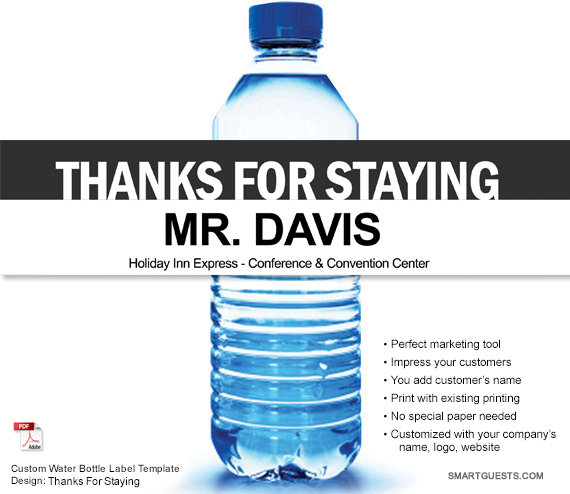 This printable template is the perfect business marketing tool to boost customer satisfaction, build loyalty and increase social proof, while increasing revenues.

Want to WOW your customers?
Impress them while boosting your customer service scores. This popular tool is fast and easy to implement at any business.
No extra supplies& No special printers? Our brand new water bottle templates allows you to turn customers into raving fans. Unlimited uses. Once you purchase this template, it's yours to use forever.
This is a Custom, Digital Printable Template
How can it help my business:
Improve Customer Service Scores
Perfect for Sales & Marketing Tools
Boosts Guest Loyalty
Affordable & Easy to Implement
How to use it:
1) We send you a customized digital, PDF file (unlimited uses)
2) You type guest's name & print, using regular paper/exisiting printer
3) Wrap it around 16.9oz water bottle and present to guest

Description:
This is a unlimited use, one time payment tool that you can utilize forever. Recognize loyal guests and rewards members the fast and easy way. Simply type your guest's name into our customized PDF, Print (regular printer/paper), Wrap around a bottle and present!
Easy to implement at any business. Great for local sales and marketing efforts.
Features:
Add you company logo, name and website
PDF format file.
No design or setup fees.
Encourages to post a positive review.
Works best on standard 16.9oz water bottles or 12oz soda cans (bottle not included)
Perfect for local Sales & Marketing efforts too.
How to Order:
1) Select Item and Proceed to Checkout
2) Once Purchase has been made, we customize with logos/location
3) We email you file
Specifications:
*** Customized, Unlimited Use File, One time payment,
*** For Individual Property or business location Use Only.

Management Companies and Group Brand Distribution Options Available for additional charge - Contact us for details.

Each Wrapper Dimensions: 2" x 8.0" after trimmed, 4 wrapper per page
Printing: Print on regular paper with laser or injet printer
Product Type: PDF - Digital file
Turnaround Time:
Turnaround time is usually same day. Available Worldwide

Full Color and Custom Designs are available