Hotel Tools - Internet Password Cards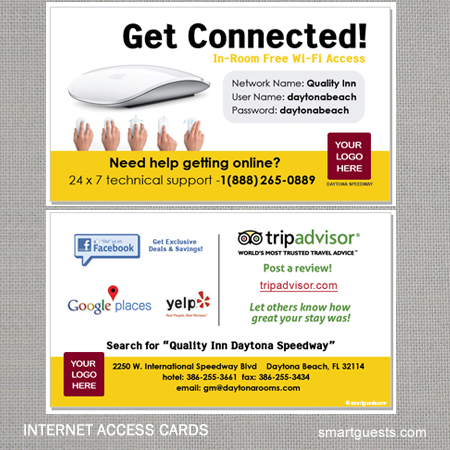 START ORDERING
Choose a design, add logo & details:
Description:
Make your hotel's Internet access cards more hardworking. Apart from giving out your hotel's Wi-Fi access information, our professionally made and beautifully designed Internet access cards encourage your hotel guests to rate their stay and give your hotel an online review. Complement this with a home page where that direct your guests to post a review about their stay at your hotel online. If you have any questions or special requests for your card, please email us.
Benefits:
* Improve Guest Satisfaction
* Reduce the number of redundent calls to front desk
* Doubles as business card
* Fits along side room keys in key packet/envelope
* Incorporates your hotel's social media as they log onto the wifi system
How to Order
1) Select Quantity, Personalize and Proceed to Checkout
2) Once Purchase has been made, we will correct and logos or design issues
3) Confirm Proof
4) We Priint and Ship!
Product Type:
14pt card stock