Printable Templates - Popcorn Wrapper Template - Printable (PDF)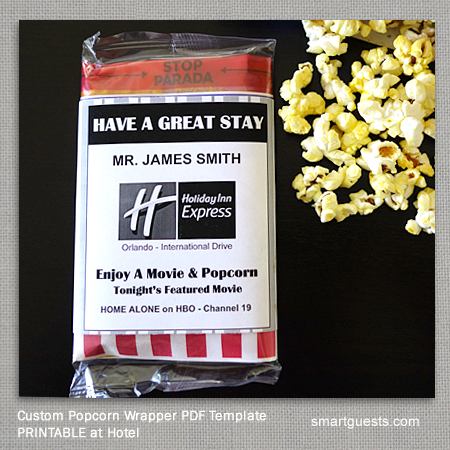 Have a question?
Click chat live or send us a message
Description:
Surprise guests while improving your service scores with our Custom Popcorn Wrapper Printable PDF Template. Show loyalty rewards members how much you appreciate their business by handing this unique tool at check in.

Great for any size, location, branded or non-branded hotels. Improve your sales and marketing efforts, How would the receipient of this sweet treat react? They will be WOW'd.

It's fast and easy to implement at any hotel. Follow the quick how-to below and jumpstart your way to creating a engaging hotel experience for your guests. If you have any questions or special requests for your order, please email us.
Benefits:
* Customizations include hotel's logo, name/location

* Printable/Editable at hotel with Guest's Name, Movie Times and Channel

* PDF format file.

* No design or setup fees.

* Encourages to post a positive review.

* Works best on standard/regular microwavable popcorn bag (not included)

* Perfect for local Sales & Marketing efforts too.

* Average cost per bag is about 25-50 cents
How to Order:
1) Select Item and Proceed to Checkout
2) Once Purchase has been made, we customize with logos/location
3) We email you file
How to Use Template:
1) Open file
2) Type Guest's Name/ Movie/Channel
3) Print using office/hotel printer (regular copy paper) Trim
4) Wrap around favorite full size candy bar
Dimensions:
4.50" x 10" after trimmed
Printing:
Print on regular paper with laser or injet printer
Product Type:
PDF - Digital file
Printing Time/ Shipping
Turnaround time is usually same day.
Available Worldwide