Review Tools - Rate Us Feedback Cards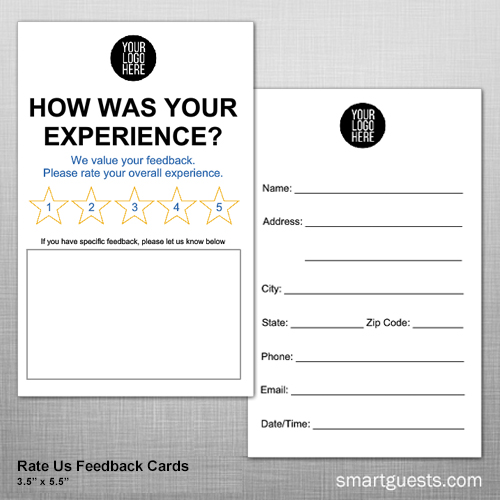 START ORDERING
Choose a design, add logo & details:
Description:
Stop sending guests home mad. Stop using cumbersome and long comment cards. The Rate Us Feedback Cards are proven to help prevent customers from leaving upset and posting bad reviews about your business.
Use this beautifully designed card to help engage and get direct guest feedback during the departure process or during stay. Our Rate Us Feedback Cards allows you to identify problems/issues and help quickly resolve them right there and then. This tool also qualifies if you should or should not be asking guests to post a review.
Benefits:
Stops bad reviews
Direct feedback tool
Prevents negative online reviews
Perfect for email collecting for future marketing
Boosts internal brand scores
Affordable, high quality card stock printing
**Customization also available. Contact Us.
How to Order:
1) Select Quantity, Check out
2) We Print & Ship!
Dimensions 3.5" x 5.5"

Printing: Full color, uncoated
Product Type: 14pt card stock
Printing Time:
Turnaround time is usually 2-5 business days
See more delivery options.