12 Ways to Surprise and Delight Your Guests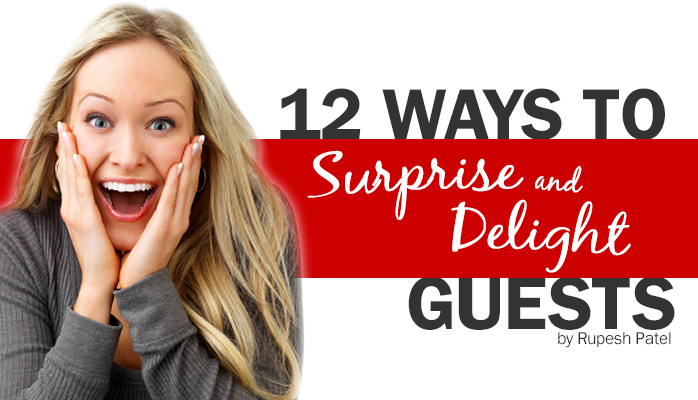 Can you remember the last time a business surprised you? I can. In this article I share what you and your business can do to turn customers into raving fans and guests.
Once every couple weeks when I'm craving Mexican food, I head over to Tijuana Flats in Daytona Beach, FL. You probably have a spot like this in your town, with good food and great beer. However this joint is different.
This establishment is has a "top secret sauce" that many businesses should admire and follow. The secret is the owner, Josh Fogarty and his team. He's one of those people that is always smiling and constantly welcoming his customers as they walk into his restaurant. He knows almost everyone and if he doesn't, by the end of their meal, he will.
On top of his exemplary hospitality, I have witnessed him surprise patrons with complimentary nachos, drinks and even full meals. This treatment cannot be forgotten. People remember these acts and turn into loyal customers, for life!
What if we surprised our customers, what would happen? Would they tell their friends, family or millions on the internet. I'm pretty sure most good-hearted people would.
(Keep me motivated to continue sharing great resources and ideas, please hit the LIKE, share this article + Join my free Hospitality + Reviews Newsletter featuring awesome tips to make your business stand out)
As long as it's not a fly on their food or a stained bed sheet in their hotel room, our guests generally love surprises. Surprises give customers a feeling that they got more than what they paid for. These extra touches make them feel that you care about them and went out of your way to make them happy. Surprises make people feel that you are genuinely grateful to have them as your customers.
So what are you doing to surprise your guests?
I've noticed a lot of small business owners (and large) are not seeing the marketing and customer experience advantages of surprising and delighting their customers. Probably because of one major misconception –
Keeping customers extra happy is expensive or too difficult.
It's actually not! You don't have to give out high-end premium items like iPads or chocolate covered strawberries to wow them. In fact, small business owners and hoteliers like ourselves are in a perfect place to surprise and delight our guests. Why? Because we can have a more intimate relationship with them and have more opportunities to connect with them on a personal level.
Here are some ways you can surprise and delight your customers.
Offer Something Free. Everyone likes freebies! No matter how small your gift may be, your customers will surely appreciate the gesture. A bottle of water or cold drink upon arrival. A local Italian restaurant often asks me if I would like a complimentary beverage while I wait for my take out. – This is a great memorable surprise.
Waive the Extra Charges. This is a favorite among many customers. Waiving the extra costs is a great way to delight your customers as well as build loyalty. Maybe you take off the Resort Fee, Safe Fee or Delivery Charges for particular guests.
Spend Time. When guests walk into your lobby, they expect that you won't spend a whole lot of time with them. Take them by surprise by really getting to know them, listen and then recommend local hot spots or your favorite restaurant. Just get to know your patrons.
Upgrades. If you run a hotel, give your loyal guests a free room upgrade every once in a while. If you're an online retailer, surprise your customers and upgrade them to priority shipping.
Wish them Luck. It sounds unconventional, but giving your customers a lottery ticket is a great way to surprise them. Who know? You might be giving out a lottery ticket that will eventually change someone's life.

Example: At check-in, strike up a conversation with your guest. Then ask them "if they had one wish, what would it be." In my experience, a majority of guests wish they could win the lottery or have a million bucks. Well, there you go. Surprise them with a lucky scratch off ticket and wish them luck!
Personalize. Customers these days are getting done with the cookie cutter business approach. If you really care about them, you would spend time and resources to personalize their experience with your brand. Customized giveaway items such as, SmartGuests.com's Custom Candy Wrapper PDF Template is the perfect example of an inexpensive way to delight.

Welcome Phone Calls. You have no idea how big of an impact a simple phone call can make in terms of building a relationship with your customers. Personally call guests you just checked in and confirm that everything in their room meets their expectations.And if they say.. all is ok… then offer further assistance with a wake up call request, recommendations for local area or offer an automatic email express checkout.
Download: Welcome Call Template here
Deals. Send your most loyal customers exclusive access to coupon codes and discounts that they can use with their next purchase in your store or next stay at your hotel.
Special Occasions. Call them on their birthday. Surprise moms with an e-card on Mother's Day. Send a card near the holidays. Remembering your customers during these special occasions will convey to your customers that you are sincere about building a connection with them.
Anticipate. Another great way to surprise and delight your customers is to anticipate their needs. For example, if you know the itinerary of your hotel guests and you see that they're hiking, you can surprise them by leaving a bag of trail mix in their room with a note that says – "Just in case you need a boost on your hike today." Now, isn't that a nice surprise?Or sunblock lotion for coastal hotels. Ice scrapers for those of your in cold climates.
Postcard or Handwritten Notes. People love getting postcards! A few days after staying at your hotel, send your guests a handwritten note and signed from a couple members of your staff.
VIP. Before launching a new product or a new promotion to the general public, ask your existing customers to come to an exclusive event to get first dibs on your new offerings. For hotels, invites guests to have a VIP experience in your newly renovated rooms.
Make your guests feel appreciated by giving them something beyond the usual when they least expect it. You'll be surprised with the positive impact these techniques will bring to your business…. More Positive Reviews, More Revenue, Repeat Customers…… the list goes on.
What are some ways you surprise and delight your customers? Comment below.
Have a successful day!
–Rupesh
__________________________________________________________________
About Rupesh
Rupesh Patel, hotelier and founder at SmartGuests.com, a U.S.-based Hospitality + Reviews Tools company that is dedicated to helping hotels make connections with their guests, using strategies that result in positive reviews and increases in customer service scores. He regularly shares his passionate for entrepreneurship, customer engagement and marketing on numerous social sites and blogs.
Connect on LinkedIn: www.linkedin.com/in/rupeshpatel1/
Rupesh's Twitter: @smartguestscom
Read my Blog: www.smartguests.com/blog
Facebook: www.facebook.com/smartguests
Love Pinning? Visit me on Pinterest: http://www.pinterest.com/smartguests
Get more tips and the latest updates delivered to your inbox.
> Subscribe and Get a Free Marketing Tool Now <