CHECKLIST: What to do When Your Hotel Manager Suddenly Quits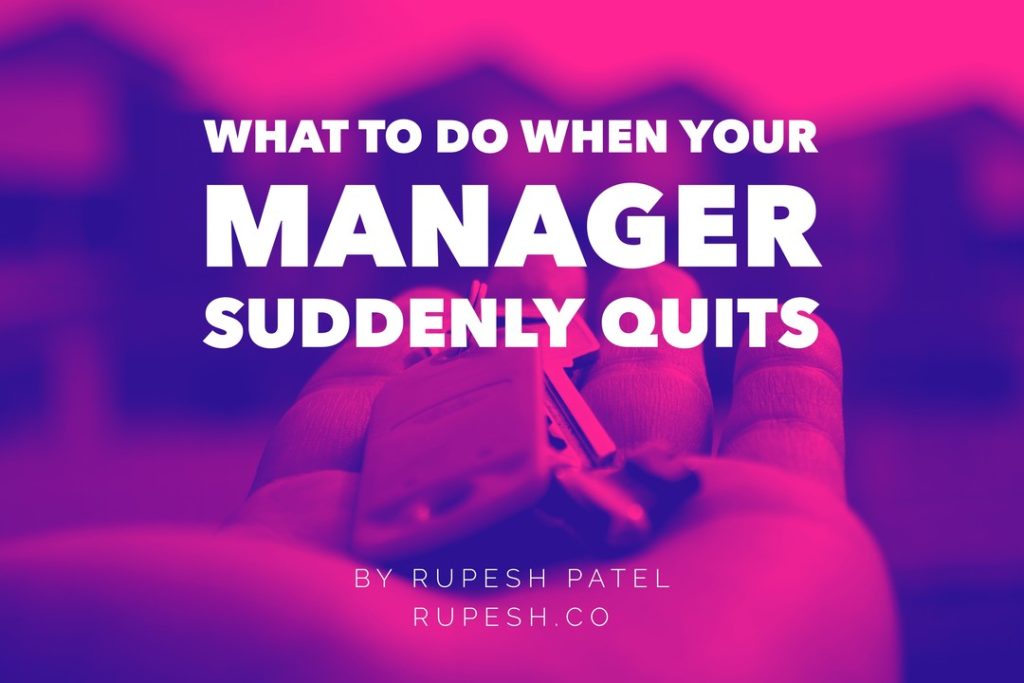 Yes, it happened to me. My hotel manager suddenly quit!
I wrote this article for both hotel owners and managers. You'll discover what to do if you or a friend is ever stuck in this situation.
There's almost nothing more painful than the leader of your business abruptly quitting on you. If you've been in the hospitality industry as long as I have, chances are that we've shared the painful experience of employee abandonment. It's unprofessional.
People leave their jobs for millions of reasons. We should be OK with professionals moving forward with their careers. It's in the best interest of all parties.
However, I don't recommend just quitting. There are better ways to part ways, such as a proper notice (I'll leave that for a future post).
Quick story – About 10 years ago, my GM at the time calls me (on the day after returning from a vacation) and says "come to the hotel now, I QUIT!" She continued with …"if you're not here in 30 minutes, I'll just leave the keys on the desk". So, I rushed over in a panic to learn that she found another job and needed to leave right away. I was shocked. I felt abandoned. I almost wanted to cry.
Have you ever felt this way before?
I wanted to yell but I didn't. I could have argued and scolded her for her unprofessional behavior. But I knew that wasn't going to help the situation.
As soon as the hotel keys landed in my hands, I felt this tremendous pressure overcome me. I was stressed and didn't know what to do. I had a million questions running through my head. Questions of… "why is she leaving?" and "what problems is she leaving me with"? "What do I need to do to secure my business"?
I was feeling overwhelmed and wished I knew where to begin! It seemed like a daunting task that would never end.
I guess it's just a part of doing business so for anyone that is caught in the same position, I've created a checklist to help ease the transition. You can also use this list as a reference when there's a change in management. Use this suggested list along with your company's standard operating procedures, processes and HR procedures.
Here's my checklist for what to do when your hotel manager suddenly quits.
☐ Stay calm. Don't panic.
I knew if I started panicking, others around me would feel the affects. So I stayed calm, cool and collected. Take a walk. Think things through. Don't focus on the why's. Focus on your game plan.
☐ Be professional.
Remember, your true self comes out when you face challenges like these. People will remember that you maintained a professional composure during these tough times. Be confident in your professionalism.
☐ Deactivate their log-in credentials from the PMS (property management system).
☐ Retrieve all master keys (both electronic & hard).
☐ Recover petty cash.
☐ Retrieve assigned electronics.
☐ Collect check books, credit cards & other financial documents.
Retrieving all assigned financial documents can help ease your mind and prevent surprise charges on next month's bank/cc statements. Cancel credit cards if need be.
☐ Change all passwords.
☐ Redirect emails to appropriate personnel.
☐ Review all cash deposits.
☐ Review accounts payables.
☐ Inform HR & payroll companies.
☐ Send a memo to all staff.
☐ Establish interim MOD (manager on duty).
Do this today! Have someone trained and ready to take on temporary management duties while your property goes through this transition.
☐ Inform your bank.
The last thing you want is an ex-employee to have access to any part of your financials. Go into the banking locations where you manager made deposits and notify everyone working, including the bank managers.
☐ Inform vendors.
☐ Hold a meeting with department heads/supervisor.
☐ Assign someone to monitor internal guests surveys.
Even though your manager is gone, your guests are still providing valuable feedback. It's important to have someone assigned to constantly monitor and reply to all guest surveys. This will help ensure quality, standards and guest satisfaction.
☐ Change or re-key locks.
☐ Notify the franchise brand.
☐ Allocate someone to respond to online reviews sites.
GM or NO GM – the show must go on! That means millions of potential guests are still reading your online reviews. Your online reputation program can't stop. Allocate the right people to monitor and respond to all your online review sites, including TripAdvisor, Google, Expedia, Booking and more.
If you don't have time and need help replying to all those reviews, Sign up for my Review Responding Service.
☐ Post an ad.
☐ Inform accounting.
☐ Notify top accounts.
You don't want your best guests finding out about this change from anyone except you. They need to be assured your hotel is still here to provide hospitality as they are used to. Plus you don't want to lose these valuable guests to an ex-manager – TRUST ME, it happens all the time!
☐ Review existing sales and marketing strategies.
☐ Notify revenue manager.
☐ Notify franchise brand area director.
☐ Review your legal obligations as an employer.
☐ Take stock of their left behind to-do lists.
☐ Review inventory.
☐ Review future group business.
☐ Get a task force manager (if needed).
☐ Ask for help.
Losing a manager seems like the end of the world. It's not, change is often good. Use this as an opportunity to learn and grow. Use my tips to help make a smooth and easy transition.
I create a free downloadable PDF checklist: DOWNLOAD HERE
Was this article and checklist useful? – PLEASE LIKE & SHARE THIS!
What else can we do after a manager quits? Comment below.
Have a super successful day!
About Rupesh Patel
Hi! I'm Rupesh Patel, Hotel CEO and Founder at SmartGuests.com, a U.S. based company that helps businesses like yours, improve guest interactions by implementing customer service training, strategies and marketing tools. My hands-on experiences and creative ideas have been featured in industry magazines, websites, books and blogs. Today, I'm here to share my passion for entrepreneurship, customer service and marketing with you.
Connect with me LinkedIn: www.linkedin.com/in/rupeshpatel1/
___________________________
Get tools to improve your customer service scores, guest experience and online reviews – Visit SmartGuests.com