How to Build Highly Engaged Employees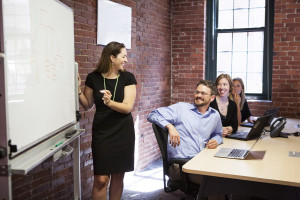 Do you want staff who make a positive contribution to your business? Who make clients and guests want to come back? Who find new clients and make more sales and profits?
Of course you do, otherwise you wouldn't be in business. But I sometimes wonder if business owners and managers are losing sight of this. You are often so caught up in the day to day running of the business, that perhaps you forget just exactly what your business objectives are all about.
The only way you are going to achieve more clients, more guests, more sales and more profits, is with highly engaged staff.
And I don't just mean those people in sales and customer service; everyone has a role to play. Admin staff, maintenance, housekeeping, accounts, – everyone in the organisation.
Gallup defines a highly engaged worker as one who has "heightened emotional connection" with his or her organisation, leading to greater effort in getting the job done.
The only way to develop that emotional connection is for the line manager to communicate with each staff member on a human level as well as a business level.
Business level communication is all about what needs to be done and who needs to do it. It's about solving problems, and giving feedback both positive and negative.
Let me give you a personal example of human level communication. I once worked for a manager who was excellent at this.
Stuart was the Director of Sales and I was a Regional Manager with six Sales people reporting to me. Stuart was my boss, he was located about four hundred miles from me so I didn't see him too often.
However we did have regular contact by phone. He would always open any call on the human level. He would come on the phone with something like – 'Hi Alan, I trust you're well.' He then might say – 'How's Elizabeth, did she get that new job she went after?'
Stuart always seemed to remember these things. We would then have a short conversation about that, and then he'd get down to business. Sometimes the business bit wasn't always something I wanted to hear.  'Your sales figures are slipping Alan, what are you doing about it?' Or – 'Your team's reporting is not up to scratch; I want you to do something about it.'
Stuart was no soft touch and his approach was never "touchy feely". However I always felt that Stuart cared about me as an individual and I would always work well for Stuart. I was highly engaged!
Of course, this doesn't mean to say that every time you speak with a member of your team that you launch into some personal discussion. Opening on a human level can take only a couple of words. And before I give you some examples – you have to be genuine!
Your team will know whether you mean something or not. I think most of us are aware of the importance of tone of voice and body language when we communicate.
So if you say something on the human level to one of your team, make sure you mean it or don't bother saying it. Just in case you're struggling, here are some things you could say.
What did you think of Florida?
How did the children (and use their names) enjoy Disney
I thought your team played really well last night
I like that tie
That's a really smart suit
You're looking well
I like your new glasses
Bring up things you've remembered, 'Did Dave pass his college exams?' or 'How's your husbands (use his name) new job?'
Many line managers avoid human level communication. They see it either as a waste of time, think it's all too "touch-feely", or just don't know what to say.
I keep coming back to that Gallup report.
If you want highly engaged workers, who find more customers, generate more sales and profits, then you need to make that emotional connection.
SOURCE: http://ehotelier.com/hospitality-news/item.php?id=26077
About the author
For over thirty years, Brett Patten has worked in the hospitality industry. He spent those years accumulating invaluable insight, knowledge and experience through his various positions, and studies, from when he starting out has a front line employee at the age of 15, with a four-star hotel in the 1980s', to recently completing his education as an executive leadership and engagement coach. Brett's unique management style consistently transformed his work environments by focusing on his people and customers for creating a engaging hospitality experience which generated strong sales and operational performance results. In 2007, Brett launched Fire and Vine of Virginia Beach, a new world wood fire cuisine restaurant built on a hospitality business strategy process that he trademarked and now calls "five-star customer experience design." Within the first two years under Brett's strategic business approach, Fire and Vine was recognized nationally for its hospitality management, design elements, employee development, customer service excellence, culinary cuisine, and wine program.
Today, after spending the last 15 years researching, studying and developing customer experience design best practices and strategy implementation for the hospitality and tourism industries. Brett has created an innovative Hospitality Business leadership and management Program. Which aligns all the business disciplines and strategies through a customer experience design approach, for creating a customer driven brand connection, as well as elevating the engagement dynamics of the business culture for establishing positive customer loyalty and sustainable financial performance results through the generating of exceptional and memorable brand and customer experiences.