No Hotel Reviews? How Not to Get Frustrated.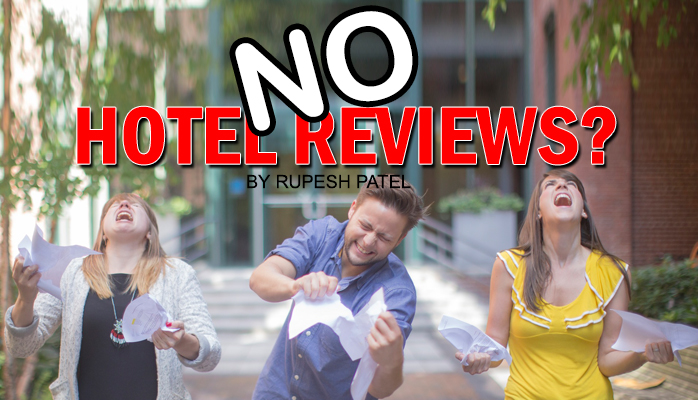 We all know that our online reputation is one of the most important assets to our hotel's success. We also understand that the quality and quantity of these reviews play an essential role. Sometimes we feel like we've done everything possible to get reviews, yet its still not enough. It sure is frustrating!
I know, I've had my share of days and weeks without guests posting reviews.In this article, I share why its important to stay calm, cool and collected! There are definitely sunny days ahead! Especially when it comes to getting positive online reviews, everyday!
I know what you're thinking, that's easier said than done.
When I was just starting out as a rookie to online reputation management, reviews came in trickles. They were so seldom that getting just one positive review was a cause for celebration (hey, we still celebrate positive review my hotels get today!).
Not getting positive guest reviews was deflating and discouraging. I could have given up right then and there. But I didn't. And I am glad I pressed on. We tried many things and tested different approaches.
So how did I get over the frustration of not getting enough reviews for my hotel? It's all about a mind-set shift.
Don't Blame Yourself, Your Staff or Your Guests
One of the typical reactions of hoteliers when they're not getting enough positive reviews is play the blame game. When we go to our TripAdvisor page and see no new reviews, we often think it's our fault for not being good enough. Some blame their staff for not being aggressive enough. Some even blame their guests for not fulfilling their promise.
This is normal reaction and I don't blame you. However, playing the blame game only adds fuel to the fire. It's counterproductive. And at the end of the day, blaming someone won't magically make hundreds of reviews appear online.
Instead of looking for someone to throw under the bus, what you should aim for is shared accountability. What this will do is turn a negative scenario into an positive opportunity for you and your hotel staff to strengthen your teamwork, revisit your goals and map out a strategy to achieving those goals.
Always Believe That Every Day Is a New Opportunity to Get More Reviews
Unless your hotel is shutting down tomorrow, there is no reason for you to be worried.
Yes, you should have a more fiery sense of urgency to get more reviews, but entering panic mode is destructive. You will imagine every worst case scenario and you will begin to live that.
Ask yourself these questions:
Are we doing everything we can to give our guests the best hotel experience possible?
Are we providing on-going training and coaching to our staff, to be more customer focused and proactive to compel our guests to publish a review about their stay?
Are we taking advantage of tools, tactics and strategies that are available to us?
If you answered no to some of the questions above, then your next course of action is simple – Do something about it! If you think you're doing everything listed above, then ask for help from your staff or from your peers if they can offer a new perspective on your scenario (or call me, I love helping other hospitality professionals reach their goals!)
Here are some ways to get more reviews
Start providing exceptional service and be great at offering the basics first. Have your team go above and beyond for your guests. Anticipate by giving directions, offer local maps of area, make dinner reservations, give discount coupons, suggest local hot spots and attractions and more.
Hand personalized business cards to make that human touch with your guests. Add logos to the back to direct them to the sites you require reviews on. See Reminder Business Cards
Example: "Mr. Smith, thank you for staying at our hotel. I would love to take care of your next stay with us, here is my personal business card. Our hotel would appreciate your experience, please share a review on _______________…"
Guests always forget to post a review. Remind them with the power of scent. Give them an air freshener cards (CareFresheners) with your hotel's info and a message to post a review. Every time they get in their car, they are reminded to share the review your hotel asked for.
Send a post stay email to guests.
Example:
"Dear Mrs.Smith,
I want to personally thank you for staying at our __________. I trust our accommodations and service met all of your expectations. As a

state your awards and accolades

, we strive for exceptional service and a clean, comfortable room with every guest.Receiving feedback from our guests helps us continue to look for ways to improve and also to know what we're doing well. In addition, your comments assist other travelers coming to the area when looking for a hotel. I would appreciate if you would take a few minutes to write a review about your stay on TripAdvisor.com.Direct Link: Write a Review for ____________________.

Reviews can also be posted on Yelp and Google+. We hope to have the chance to serve you again in the near future and in the meantime…Happy Travels.
– Hotel General Manager"

Create a monthly review goal for the entire hotel and one for each employee. Discuss which websites to focus on and have each person set goals for each site. This will make the entire team accountable for getting reviews (and not just "someone" in the hotel).
There's always an opportunity to get more reviews. It may not be today, but the opportunity is always there.
Remember Why You're Doing What You Do In The First Place
The hospitality industry is my calling. For me, it's not work. It's passion. I come to work and see how solid and dedicated our staff is. I see our guests happy and satisfied. I experience fulfillment, excitement and I'm sure I won't find these in any other business.
Remember why you're here in the first place. This may sound cheesy but it is because you love what you do! If you're married, you don't just throw away your marriage just because of a few bumps on the road, right? You work it out.
At the end of the day, if you genuinely love this business, the love, the passion, is going to get you through day after day – whether you got a hundred reviews from your guests or none at all. Don't get frustrated, keep your head up and move ahead.
Have a successful day!
– Rupesh Patel
If your hotel is struggling to get reviews and needs to improve its guest service scores, use tools that have been proven to work. My company, SmartGuests.comhelps hotels boost reviews with easy to use tools, such as customized air fresheners cards and review reminder cards.