The Power of Personalization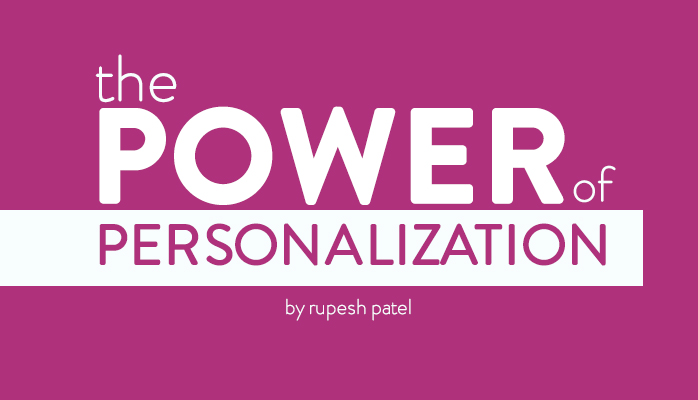 I'm pretty sure you've been surprised with a birthday cake or a special gift with your name on it. Or perhaps your best friend sent you a hand-written card with concert tickets enclosed (this is a hint to my friends!-ha). Hey, we don't like to admit it, but we all would like to see our name in shinning lights. It's only human nature to feel wanted and needed.
Today, I share my thoughts on the incredible power of personalizing our guest's experience at our businesses. Some of these ideas and strategies have made my businesses lots of money and greatly improved our customer service scores.
Don't miss out on opportunities to make real connections with your guests. According to Accenture, 80%+ of consumers say companies could have recognized & rewarded them for doing business with them.
What if today a diamond rewards member (or any guest) was checking into your hotel and the guest service agent handed the phone to her and said "Our hotel's owner would like to speak with you."
How would that guest feel? How would she react when the owner of the property says…
"Ms. Smith, thank you for being a diamond member. I want to personally welcome you to our hotel. Please let us know if there is anything we can do to make your stay more enjoyable…"
I'm pretty sure this personalized touch point would be remembered for a very long time!
Whether you run a hotel, restaurant, flower shop or any type of business, these benefits and ideas can drastically improve your culture and operations. It will most definitely improve your online reputation and reviews.
Build Loyalty with Personalization
Why do you think Starbucks, Delta Airlines and other retailers offer a customer loyalty program? They understand the power of emotions and personalization. Reward members get a custom email and a card with their name on it, that is connected to a system that show how many points they've earned for purchases. They also feel special and get perks, special treatment that other customers don't receive.
As hotel operators, we can grasp this emotional concept and take it a step further. Here are some ideas.
Put their name in a framed sign on desk
A personal thank you note from gm or owner
Offer snack bag with their name and how many reward points they have accumulated
Send up fresh cookies to guest's room with a note (download template)
Give extra points as "pay-it-forward"
Example: "You've earned 2,500 Smith Points" for Ms. Smith
Reserve sign with guest's name on it for breakfast or dinner
Add their name to the menu or a name after the "special of the day"
A special line or check in area for rewards or loyal members
Give a personalized welcome letter or email with local area attraction, shopping, restaurants, discounts and more
Provide a special parking place for rewards members
Send a small pot or vase of flowers to their room with a note from guest service agent
Place their name on a water bottle
Send an personal email with exclusive offer
Birthday or Anniversary card
These are just some of the hundreds of ways you can start boosting your customer service scores and turn happy customers into raving fans. Can you think of any more ways to personalize your guests' experience? Please share your comments below.
Have a Successful Day!
-Rupesh Patel
PS- I would love to help your hotel or business keep guests happy and boost online reviews. Buy tools that can help, visit www.smartguests.com
_______________________________________________________________
About Author
Rupesh Patel, hotelier and founder at SmartGuests.com, a U.S.-based Hospitality and Review Tools company that helps hotels increase revenues and occupancy, by boosting their online reviews and reputation. His proven system has not only improved his own hotels, but have helped hundreds of other hotels (large and small) get advantages over their competition.
He regularly shares his passion for entrepreneurship, customer service and marketing on numerous industry sites, social media and blogs.
>Connect on LinkedIn >Rupesh's Twitter >Read my Blog >Facebook >Pinterest
Get more tips and the latest hospitality updates delivered to your inbox.