50 Free Tools Every Hotel Should Have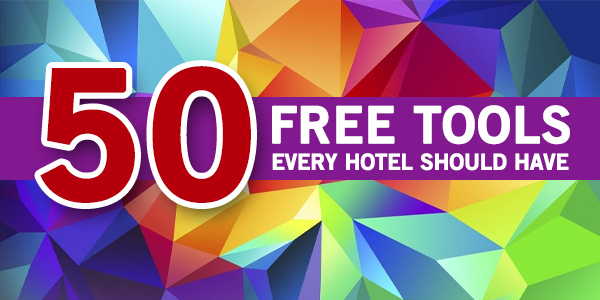 Oh Yeah, you're not seeing a typographical error. The title of this post does indeed say 50 free tools. You can't believe it, can you? Actually, there are more free tools out there that hotel managers like us should be taking advantage of, we just narrowed them down to 50.
In the past, only big hotels with big budgets can afford tools like these. The Internet and the rise of freeware evened the battle field and now, small properties can go toe to toe with big hotels, thanks to these free tools.
Without further ado, here's the list of 50 free tools every hotel should utilize.
Social Media And Social Media Management
Your hotel will not survive this digital age if you don't have a strong social media presence and if you're not using social media management tools to help you manage your social media marketing. Here are the tools that you need to have:
1. Facebook (the largest social network in the world)
2. Twitter (the most popular microblogging site)
3. Google+ (works wonders on your SEO and building your credibility as an author)
4. LinkedIn (the world's largest gathering place of professionals)
5. Instagram (a popular photo-sharing site owned by Facebook)
6. Pinterest (a photo-sharing site that drives the highest-converting traffic)
7. Vine (allows you to create 6-second looping video)
8. Vimeo (video sharing site that boost your SEO)
9. YouTube (the second largest search engine on the planet)
10. Buffer App (free version) (social media scheduling and analytics)
11. Hootsuite (free version) (social media scheduling and analytics)
Project Management and Collaboration Tools
Running a hotel is difficult if you're just a one-man team. Chances are, if you're an hotelier, you have a team that helps you running your property. You may even have a team of outsourced virtual staff helping you with different things such marketing, blogging and data entry. In these instances, it pays to have project management and collaboration tools at your disposal to make working with your team as seamless as possible.
Here are the free project management tools and collaboration apps that you should check out:
12. Asana (assign tasks to your team)
13. Basecamp (delegate tasks and share files)
14. Podio (collaborate with your hotel staff)
15. Trello (create new ideas from scratch and brainstorm with your team)
16. Sqwiggle (get on video on demand with your team and discuss with your team)
Note Taking Tools
Hotel people like us have many ideas and the sheer number of these ideas can sometimes make us disorganized or worse, forget a few of the best ideas that we came up with. If this sounds familiar, don't fret. Here are a few note taking tools that can help you organize and keep your ideas in one place. I love EverNote!
17. Evernote (arguably one of the best note-taking tools around, loaded with features)
18. Google Keep (made for Android users)
19. One Note (if you're a Windows fan, this is the note taking tool for you)
Blogging Tools
Content is king! Content marketing is one of the best ways to engage with potential guests and get more bookings for your property. And when it comes to delivering engaging content to potential guests, blogging is one of the best ways to do it. You can host your blog in your own server, but if you're looking for a free content management/blogging platform, here are the tools you should check out:
20. WordPress (the most popular CMS tool in the planet)
21. Blogger (the CMS platform from Google)
22. Tumblr (this is great if you share a lot of photos)
File Sharing Tools
It's great to know that you can still access your files and accomplish work even if you're away from your desk. Cloud storage and file sharing tools have enabled hundreds of hoteliers and hotel managers worldwide to access their documents anywhere. Best part about these, they're free!
23. Dropbox (up to a certain space allocation)
24. Sky Drive (up to a certain space allocation)
25. Google Drive (up to a certain space allocation)
26. One Drive
27. Copy (free up to 15GB)
Communication Tools
Without communication, your hotel will fail. You have to be constantly in touch with your team and staff to make sure things are going well. The web offers many free communication tools that you can maximize. Here are some of them:
28. Skype
29. Google Hangouts
30. Yahoo Messenger
31. Facebook Messenger
32. WhatsApp
33. VSee (unlimited group video calling for free)
34. UberConference
35. GoToMeeting (virtual meetings for up to 3 people)
36. WebEx Meeting
37. Viber
News Aggregator Apps
It's important for all hotel professionals to always be in the know about the latest trends that are affecting and changing the hotel and hospitality industry. Luckily, you don't have to hire an intelligence firm to do this for you. Thanks to news aggregator apps, you can read everything that you need to know all in one place.
38. Feedly
39. Flipboard
40. Google Currents
41. Pulse
Social Review Sites and Local Directories
Reviews can make or break your hotel. This is why it is important that you constantly monitor your reputation across these social review sites and luckily, the biggest ones have an app you can use and download for free.
42. TripAdvisor
43. Yelp
44. Google Hotel Finder
Hotel Specific Industry Publications
Tools are not just apps or downloadable software. Anything that will help you run your hotel better and make your property more profitable can be considered a tool. This is why blogs and industry publications can be considered tools as well. Here are the top hotel-specific websites and resources that you should follow:
45. HotelResources.com
46. HotelNewsResource.com
47. HotelMarketing.com
48. Hotelinteractive.com
49. 4Hotelier.com
50. HotelNewsNow.com
51. Of Course, www.smartguests.com (shameless plug)
Updated:
52. www.skift.com
53. www.tnooz.com
Whew! That's a long list, but we're super happy that we were able to give this to you. Check out every single tool on this list and check how it can help you run your hotel better.
Also, if you have a list of your own, share them in the comments below. 50 Free Tools Every Hotel Should Have.