How to Handle Debit Cards at Your Hotel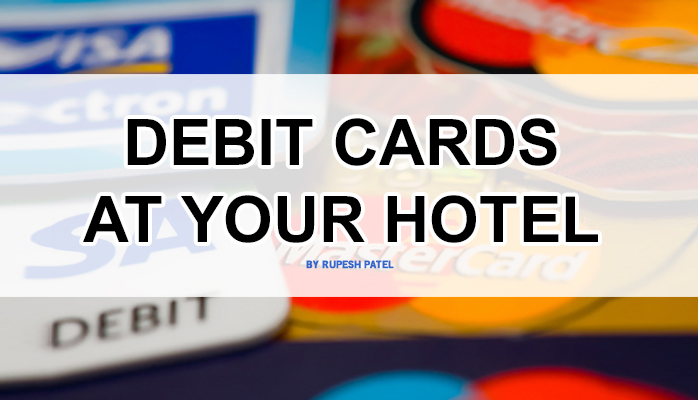 Ever had a guest complain that your hotel double charged them or depleted their bank account? In this article, I share how to prevent guests from posting a bad review about your hotel due to a debit card issue.
You haven't lived until you've experienced irate customers in your hotel lobby arguing and threatening to call corporate. Yup, I've had my share of guests trying to intimidate us! Almost every time our hotels used to receive these type of complaints, it almost always had to do with a debit card.
Most travelers these days prefer cashless methods to pay for their expenses, including their hotel reservations. These transactions can sometimes be safer and more convenient since you don't have to worry about finding an ATM machine to withdraw money or deal with cash.
When it comes to cashless payment methods, using a credit card is still the most popular but a lot of hotel guests choose to pay with debit cards. Unlike a credit card which uses a line of credit for payments, which is paid for on a later date, a debit card is as good as cash because it is directly linked to a bank account and money is automatically withdrawn upon payment.
So why are debit cards so cumbersome to hotel operators? Why do a lot of general managers find them annoying?
Since the use of debit cards are relatively new compared to credit cards, there can still be a bit of confusion among guests on how they will be charged. Since it involves your hotel guests' hard-earned money, miscommunication regarding debit card charges that you make can cause a great deal of dissatisfaction among your guests.
It is your responsibility to explain how their debit card will be charged during check in.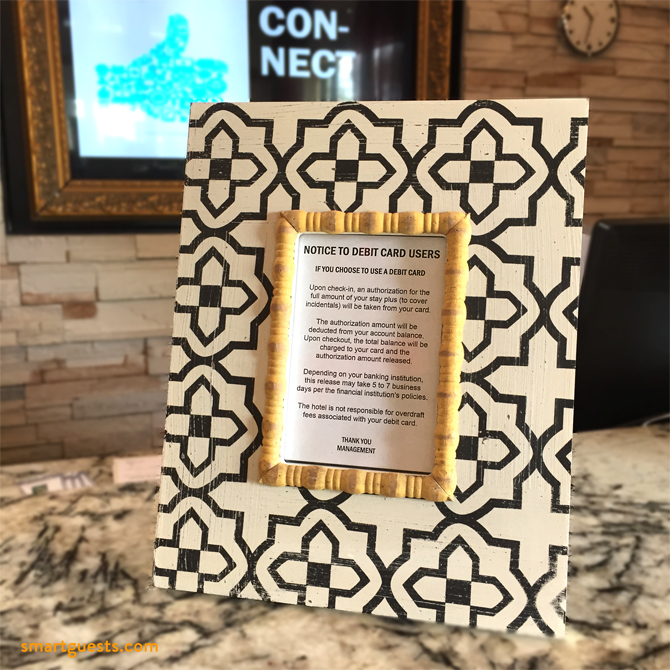 The Prevailing Debit Card Policy Across Different Hotels
**Check with your merchant and bank before implementing any policies first**
If you don't have a policy for debit card users in your hotel yet, here's the common practice. You can hold a pre-authorization amount from your guest's bank account that is equivalent to the amount of the total number of nights that the guest booked plus an amount to cover incidentals (some hotels call this security deposit). This is done during check in.
At check-out you should charge your guest the total balance which means that total amount that was actually spent or due. This might be higher or lower compared to the authorization amount. For example, if the guest did not really spend anything while checked in, the total balance will be lower because the incidentals deposit was not consumed.
Upon check out, you should release the authorization amount that you charged your guests during check in. You're releasing this amount because you are charging them the actual balance upon check out and not releasing the initial authorization amount will result in double charging.
You should explain your debit card policy and inform guests that the authorization amount will be released between 5 to 7 days (sometimes up to 2 weeks), depending on their bank's policy. They should understand this because they might be surprised why they don't see the authorization amount credited to their account immediately.
Also, explain that you are not responsible for the overdraft fee that their bank may charge. An overdraft fee is a fee that banks charge if an account holder uses more money than they actually have on their account.
How Do You Communicate These Policies To Your Guests?
Again, I cannot overemphasize the importance of communicating these policies to your guests who choose to use a debit card. It's a messy problem you don't want to get into since you will be blamed for something that is clearly not your hotel's fault. It's not as if you're taking money that is not due you, right?
Maximize every opportunity to communicate this policy to your guests.
Have a printed copy of this debit card policy and put it in a frame at the front desk or registration. Put it on the booking page of your website and make sure it's noticeable. Train your front desk staff to communicate this policy effectively.The key is to communicate to them and verify that they understand and agree to your hotel's debit card policy.
Download PDF: Hotel Debit Card Policy Template
As always, I am happy to provide relevant information so you can run a successful hotel. If you found this article valuable and you know you need to make a change at your property, buy tools to help boost your performance now. Visit www.smartguests.com.
Have a successful day!
Rupesh Patel
Like this? Here are more insights for your hotel
Free Guide: Get 35 Best Ways to Respond to Guest Reviews Emailed to You
Top 5 Reasons Why ALL Hospitality People Need Business Cards
How to WOW Hotel Guests at Check-in
Get more tips and the latest updates delivered to your inbox. 
>Subscribe and Get a Free Marketing Tool Now <