How to WIN BIG by Responding to Online Guest Reviews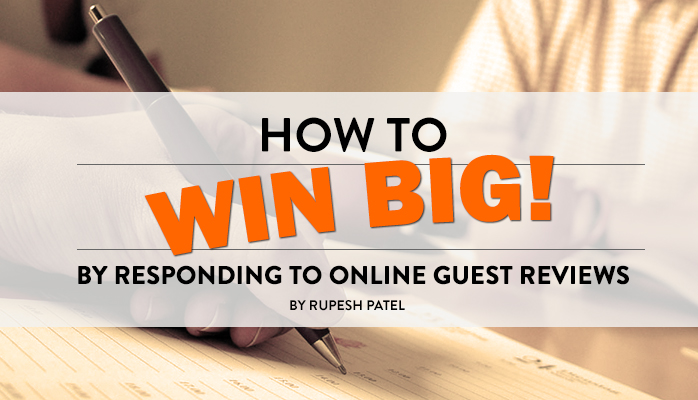 You've worked really really hard to deliver a nice room and great service at your hotel. Your hospitality team has even engaged with guests and convinced them to write reviews about "Your Stay & Our Service."
And so your guests have kept their promise. What's next?
In this article I share how you can take advantage of those desperately needed and received reviews? Hold on, if you are a "hotel person" that does not believe online reviews are important or does not think reviews contribute to your revenues, then PLEASE stop reading this article now (I cannot change your views on this topic – only you can control your destiny).
For those who want to grow their room revenues and online presence, let's move on. After you have received a good or bad review what are you supposed to do? Yes, you got it, RESPOND!
I asked Motivational Speaker and Author, Jones Loflin to share with me his thoughts on the importance of acknowledging hotel guest reviews. He shares…
It takes enormous resources of time and money to attract new guests and build a relationship with them. To me, building a stronger relationship with your recent guests by taking 60 seconds to reply to their review would offer a tremendous return on investment of your time. It shows you sincerely care about their comfort and well-being while staying at your
property"

Let me see if I can put it in everyday terms…Have you ever sent an email to a friend and never heard back? Paid someone a compliment and got silence in response? Gave one of your staff feedback and just got a blank stare in return?
Your guests will feel the same way if you don't respond to their feedback. You owe it to them. Additionally, you owe it to yourself and to your business to respond to all online reviews because at the end of the day, it's you who will benefit.
How? Here are the benefits that you can reap from responding to ALL reviews about your business.
(Before I dive in, if you like what you're reading so far and learned something, please keep me motivated to share more by hitting the LIKE button and Share this with a co-worker!)
Say you're Hotel A. A few blocks away is Hotel B. You both offer the same amenities and room. In short, you're pretty much identical. John, a traveling executive, goes online and looks at reviews about you and Hotel B. He sees that Hotel B is active, relevant, recent and replies to all reviews while you reply sporadically. Can you guess which hotel John will choose?
I'm betting it's going to be your competitor. Why? Because responding to reviews convey to your customers that you care about them and people would love to patronize hotels who care about their guests. Show potential customers that you care about their thoughts and opinions by responding to all reviews 100% of the time.
Responding to online reviews about your hotel can also drive social media engagement. You can ask your guests to like your Facebook page or follow you on Twitter to continue the discussion outside and boost interaction on your social media profiles.
What if you posted images or screen captures of your reviews from review sites on to your social media? This definitely can help increase awareness and drive social proof of your hotel.

When people have questions, they expect a fast feedback, especially if it's a complaint about a product or service, as well as inquiries that will help them make a more educated decision about their purchase. This is why resolution time has been one of the key metrics in customer service.
Why do you think all hotel brands/chains have a mandatory response time to customer feedback? It's important!
If you don't respond to online reviews, people will think that you also won't care about their complaints or needs when they are staying at your hotel. They will get turned off and take their money across the street, to your competition.
On the other hand, if you respond to all reviews in a timely manner, potential customers will have confidence to do business with you because they know that you will respond if they have questions, concerns and comments. Be a smart hotelier, respond quickly!
Get my free hotel reviews guide: 35 Best Ways to Respond to Guest Reviews

Yeah, I love the word FREE. Do you?
Quickly replying to feedback about your hotel can give you an opportunity to market for free. Why? Because in your response, you can reiterate the key benefits of your amenities or services and promote your key offerings (free breakfast, gym, manager's reception). Everyone who reads these reviews will see your response and you will be able to indirectly market to them.
Example: "Mr. Smith, Thank you so much for your wonderful comments! We love to hear when guests have thoroughly appreciated our hot complimentary breakfast buffet. I hope you had a chance to enjoy our do-it-yourself waffle station. We look forward to hosting you and your family again very soon. Have an exceptional day!
– Sincerely, Ms. Bailey, General Manager – Quality Inn Daytona Speedway"
Adding marketing hints inside your review responses is not only beneficially to all future guests, but it's a free way to market your property.

Search engines "listen" to conversations online when ranking businesses. When Google, Yahoo or Bing "hear" that there are a lot of people talking about your business online, they take it as a signal that you are legitimate and you provide the content people are searching for online. Responding to reviews is a great way to generate conversation and send social signals to search engines.
Eventually, your hotel will get ranked higher for search terms that you and your customers use. For example, if your hotel guests keeps saying that your "hotel provides value for money" and you use the same term in your response, you will eventually be ranked for that phrase.
You worked hard to get reviews, so it would be a disservice to your customers and to your business not to respond. Plus, you will be missing out on the benefits above. So, don't wait for the ball to drop, reward yourself by taking advantage of your online reviews!
Need help getting started?
Use SmartGuests.com's Quick Start Guide to Hotel Reviews.
Have a successful day!
-Rupesh Patel
_______________________________________________________________
About Author
Rupesh Patel, hotelier and founder at SmartGuests.com, a U.S.-based Hospitality and Review Tools company that helps hotels increase revenues and occupancy, by boosting their online reviews and reputation. His proven system has not only improved his own hotels, but have helped hundreds of other hotels (large and small) get an advantage over their competition.
He regularly shares his passion for entrepreneurship, customer service and marketing on numerous industry sites, social media and blogs.
>Connect on LinkedIn >Rupesh's Twitter >Read my Blog >Facebook >Pinterest
Get more tips and the latest hospitality updates delivered to your inbox.