Top 5 Reasons Why ALL Hospitality People Need Business Cards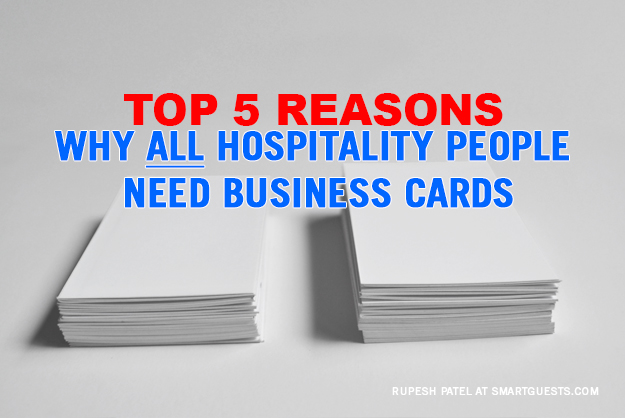 Making the Business Case for Business Cards: Five Reasons Why All Hotel Employees Need Business Cards
Remember receiving your first set of business cards? Remember feeling so proud and excited that you handed one out to all your friends and family? I sure did. Think about  how a simple card can help your business increase engagement, reviews and sales.
The fundamental use of business cards is so ubiquitous in the business world that it's almost a mundane thing to have. For most, it's just another piece of paper they keep in their wallet. This holds true across all business categories including the hospitality industry.
However, not all hotel employees are given their own business cards. Oftentimes, only hotel managers and senior hotel officers are provided with their own set of calling cards, probably because of the mentality that only executives need them. While this might be true in the typical corporate setting, it's different in the hotel industry.
Who interacts with guests the most? Your entire hotel staff – from the housekeeping and maintenance team to the shuttle drivers and breakfast hosts – need their own set of business cards to reinforce your hotel's sales and marketing as well as boost customer satisfaction. So why doesn't your team have their own cards?
Here are the top five reasons why it's a smart move to give  your entire team their own personalized business cards.
Business Cards Make Your Hotel Employees Look More "Trusting"
Well-designed business cards convey an image of trustworthiness and professionalism, allowing your hotel staff across all ranks to make a good first impression among your guests. It creates that perspective among guests that your staff and the position they hold are important enough to the hotel that they deserve to get their own calling cards. Overall, it elevates the perception of guests on your hotel employees. [ Related: How to Boost Staff-Guests Engagement at Your Hotel ]
Business Cards Create Accountability Among Staff
"If you need anything, please don't hesitate to contact me". Notice how a lot of business executives say this before handing out their business cards? Now, imagine if your hotel staff can say this to your guests…

" Mr. Smith, Thank you for staying with us, please call me directly and I will personally take care of your next reservation with us"

Likewise, put yourself in the shoes of the guests, how would you feel if all hotel personnel can offer this level of service to you? It's amazing how a simple piece of paper can convey a sense of accountability. Having your staff's contact information within an arm's reach gives them a peace of mind that they can always call someone (and call someone specific) to help them with their needs or address their concerns. A business card can make a personal connection.

Business Cards Boost Employee Morale
So do you still remember the very first time you were issued your business cards? The feeling was reaffirming, exciting, encouraging and it made us feel that we are indeed part of the company and part of something bigger than us.Giving all your employees their own set of business cards will elicit the same feelings and emotions. It will create a culture of inclusiveness in your hotel that can create a sense of ownership, accountability and responsibility among your hotel employees. Likewise, they will have high regard for their job, making them feel more empowered and more able to handle guest concerns and address guest complaints.
Side Note: I do not recommend offering a "Blank" or "Temporary" card to your long-term team. This will show that their position with you is temporary at best.
Business Cards Allow Your Staff to Market Your Hotel Wherever They Go
You can never tell who your hotel staff will meet when they go out with their friends or family. They can meet HR managers, employee engagement officers, event organizers, wedding coordinators, travel agents and the list goes on and on.Everyone mentioned above is a potential source of business for your hotel. Wouldn't it be great if your employees have their business cards with them to give out to these potential sources of hotel bookings if and when the opportunity presents itself?

Imagine if one of your concierge or guest services staff is introduced to a wedding planner. Wouldn't it be great if he or she has a business card to give out to this wedding planner and make an on-the-spot sales pitch for your hotel as a good wedding venue?Business cards give your hotel employees a mobile marketing tool that they can take with them wherever they go and build awareness for your hotel if and when the opportunity presents itself.

Business Cards Can Boost Online Social Reviews for Your Hotel
In this digital era, a hotel won't survive without a strong online presence and a crucial element in building your hotel's online real estate are online social reviews. Today, what you say about your hotel is holds far lesser value compared to what your guests say about your property. To put it bluntly, online reviews can make or break your hotel.

Many hoteliers and hotel managers are complacent when it comes to soliciting reviews from their guests because they don't want to appear imposing or desperate. However, recent online marketing studies have shown that the number of online social reviews for your hotel can significantly increase if there's prompting coming from your end. [ Also Read: 2 Tools that Remind Hotel Guests to Post Reviews ].The solution to this dilemma has been sitting in your wallet – utilize your business cards and make it more hardworking.
At SmartGuests.com, we offer a hotel marketing solution called Staff Review Cards. It's essentially a business card with one clever twist. At the back of the card, it has a short blurb encouraging guests to post online social reviews about your hotel as well as the icons of the most popular travel review/local review websites such as TripAdvisor, Yelp and Google Places. It also encourages guests to mention the name of the hotel staff on the review.
It's definitely a hardworking business card that accomplishes several things all at once:
It has all the benefits of a traditional business card
It encourages social reviews for your hotel
It allows you to track who the best performing staff in your hotel is and create an incentive program for your personnel for every positive online social review that they get
More than Just a Piece of Paper
Business cards are arguably some of the most overlooked marketing tools for hotels and their benefits are not fully maximized because their use is mostly confined within the management team. Evidently, through the proof points presented above, giving all your hotel employees their own set of business cards have obvious benefits.
Business cards are inexpensive, efficient and easy-to-do, but they can deliver fantastic results for your hotel if you use them properly.
Need a custom Business Card or Social Review Card solution? We would be happy to help. Contact us