The Winning Recipe to Get More Guest Reviews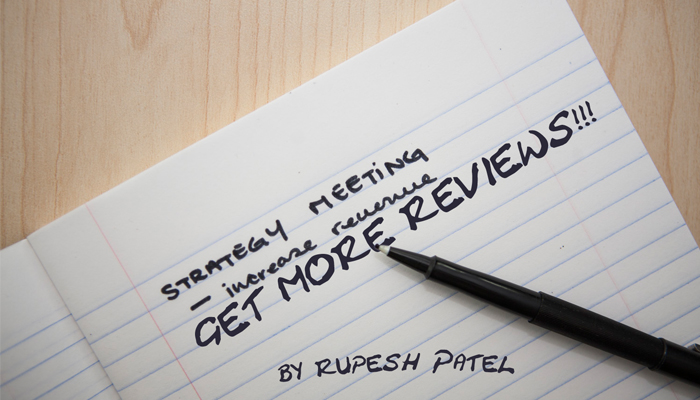 Are guests only writing bad reviews about your hotel? Would you love to just get more good ones? I coach hoteliers and businesses on a weekly basis. Helping them find solutions to their social engagement (reviews) and service related struggles. Almost 100% of the time, these highly talented individuals' first question to me is…
How Can My Hotel Get
More Reviews?
My reply to them is… "Do you have a proper customer feedback strategy in place?", "Are you using tools and resources to ask for reviews?" and "Is your staff trained to know how to get reviews?" Their typical response is a simple "No, no to all." Then I proceed to explain the benefits of each. Today, I'm here to share valuable tips and help you uncover why your guests aren't sharing reviews.
So what are you doing at your hotel? Are you creating memorable and engaging experiences for your guests, then are you asking these customers for their feedback?
Here's the winning recipe my hotels use to get more reviews. These 5 ways can help increase guest engagement and double your reviews in a matter of weeks.  The Winning Recipe to Get More Guest Reviews: 
1. Provide a great check-in experience
In my opinion, the check-in process at most hotels is very rudimentary, cut and dry and VERY BORING– the front desk agents says…. "checking in?", then asks for identification, credit card and hands over room keys. Have you ever stayed at one of these hotels? We all have.
First impressions mean a lot to your guests. Its a matter of life and death (death meaning bad online reviews). If the check-in process was mediocre, the guest automatically thinks of how bad the room must be.
It's sort of like walking into a restaurant and heading straight to the restrooms. If the restroom was dirty, nasty and smelly, your mind shifts into offensive thinking. What else can be a problem here -the food!? Even if the food was good, the mental note of that awful restroom remains. Once you lose that guest's confidence, it is very tough to get them back.
Make your guests feel wanted. Give them a warm, friendly welcome. As the guest walk up to the desk –
"Hi, Welcome to Daytona Beach. Is this your first time here? What brings you to the area? How was your trip in? Can I offer you a bottle of water?"
Learning more about your guests can help you anticipate their needs. Remember, you're building trust and rapport. Show them the same hospitality you would show your friends/family when you invite them to your house.
HINT: Your competition isn't doing this. So you're already ahead of the game!
Start off on a positive note and your happy guest will be delighted to share their experiences.
(Related Article: 10 Traits of a Great Front Desk Agent)
2. Be proactive by resolving issues or answering questions
When you're trying to get more reviews for your hotel, you have to remember that not all reviews are created equal. You're not just after the quantity, but the quality of the reviews that your hotel will be getting. Hundreds of reviews would be useless if majority of them are negative or just average.
You want great reviews that reflect the five-star experience (even if you're not a five-star hotel) that your hotel delivers to your guests. A big part of this is your ability to respond to issues and questions that your guests might have in a timely manner. Call their room once they've checked-in to see if they need anything else. Train your front line team to always ask about their stay so far…
Good Evening Mrs Smith, this is Rupesh at the front desk, I want to make sure everything in your room meet your expectations. Is there anything else I can do to make your stay more comfortable?
Be proactive in providing additional and/or alternative options such as choices for attractions, shopping, local favorites, dining options and more. People remember these extra touch points, so go above and beyond. If there's an issue, fix it right away and follow up to confirm they are satisfied.
Finally, don't forget to give them your contact information so they can reach you if the need arises.
3. Use tools to get direct feedback before guests leave
It always baffles me why a lot of hotels don't maximize this opportunity to engage their guests for feedback before they leave. I understand that most of the time, your guests are in a hurry to be done with the checkout process because they're rushing to their next destination or have a plane to catch.
However, if you keep it simple, your guests wouldn't mind giving you their feedback.
Here's the deal. If your hotel guest didn't get the chance to give you their feedback while they're still checked in, they will surely find a way to air out their grievances once they're gone. Most of the time, they rant on social media, surveys or worse, they post negative reviews on travel review sites such as TripAdvisor.
Most people want to be heard. By asking them simple questions, they will be more than willing to speak their minds about the service they received. This gives you the opportunity to resolve any issue they might have before they leave. You can turn a negative situation to a positive situation and guests would be more than happy to write a review about your hotel.
SmartGuests.com's We Care Cards is an example of a tool you can use to get direct feedback before your guests leave. It contains just two questions: How Was Your Stay? and How Can We Improve? Two simple questions that effectively convey that we do care about our guests and that we are willing to do everything to resolve any issue they might have. Plus there's an area on the back to collect their full information (just in case you didn't capture it at check-in) – it's more professional than getting a piece of paper out of the printer.
Use this effective tool to get feedback, prevent guests from leaving upset, catch potential operational issues and keep guests happy.
Trust me, you want to do whatever it takes to get their feedback before they leave your property.
(Also read this: 12 Ways to Surprise and Delight Your Guests)
4. A personal thanks to remember
Let's face it. We tend to care less about our hotel guests at checkout. After all, you already got what you want from them and who knows if they'll be back or not.
This is a wrong mindset. You have to deliver a exceptional customer experience to your guests from check in to check out and everything in between.  And you'd be surprised how an extra step can take their experience to the next level.
Here's a simple tip. At checkout, collect their direct feedback (as stated in #3). Then thank them for staying with you. Explain how important it is for them to share a review with the world. Tell them how their review can impact the hotel and its team.
Example:
Hi, how was your stay with us?
Mr. Davis, what is one thing we can do to improve?
On behalf of the entire team here, I want to personally thank you for staying with us. This is my personal card, please call me directly, I'll be happy to take care of your next stay with us. Also here is something to remember us by…
To have the guest remember their stay, offer a CareFreshener – a customized card and an great smelling air freshener attached, with a message from the GM to share a review on a particular review site. If you make them remember, they are more likely to write a review for you.
5. Follow up with a personal call or email
Building a meaningful relationship with your guests, getting their loyalty and proving that you deserve a review from them takes nurturing and this does not end within the four walls of your hotel.
Upon check in, collect their phone number and email address and ask their permission for you to contact them after they've checked out. A day or so after their stay, make a follow up call or send them an email. Here's an email I received after checking out of a hotel during a business trip.
TIP: If your guest have completed a "franchised brand survey", reach out and ask them to share a "public review" , for the world to read (on TripAdvisor, Yelp, Facebook, Google Local and more).
Clearly, doubling your hotel reviews is more of an internal initiative while your guests are still inside your hotel than an external marketing campaign. Keep in mind that the prerequisite of stellar reviews that can drive revenue for your hotel is to deliver a great hotel experience consistently.
Is your hotel having trouble getting good reviews on a going-basis? I can help. We offer on-site training and consulting to help you and your hotel increase reviews and improve customer service scores. Click here to setup a call to learn how we can create a custom review-getting strategy for your hotel or business.
Have a successful day!
Rupesh Patel
The Winning Recipe to Get More Guest Reviews