A Hotelier's Guide To Using Yelp
A Hotelier's Guide To Using Yelp for Marketing
Most managers I come in contact with are always perplexed when I ask them, "How are your reviews on Yelp?". They simply don't know or have never heard of this popular social review site.  With more than 132 million unique monthly users and 57 million reviews published to date, Yelp is a formidable online local business listing platform. However, it's an often overlooked marketing channel among hoteliers, possibly because unlike TripAdvisor, Yelp is associated more with restaurants than hotels.
If you take on the same mentality, you are missing a big opportunity to drive more business for your property. According to a research, a one-star improvement in a restaurant's Yelp rating can lead to a revenue increase ranging from 5% to 9%. There's no reason for hotels not to benefit from the same revenue boost.
If you haven't used Yelp before, here's a beginner's guide to help you kick start your Yelp marketing for your hotel.
Claim or Create Your Listing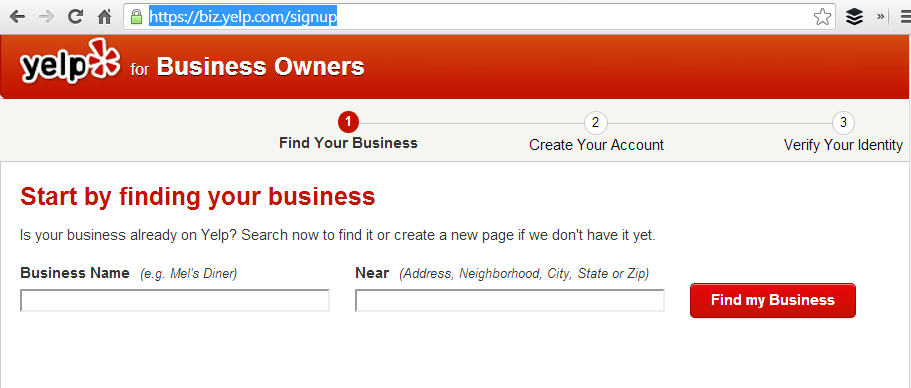 You'll be surprised that even though you haven't used Yelp to market your property before, your hotel is already listed. Now, what you need to do is to claim your listing.
How do you do this? Go to Yelp and search for your hotel or click here to read our guide Claim Your Hotel's Listing on these Sites Now. If it's already listed, there's an option where you can "Unlock" the business page. Just enter the information being asked by Yelp and it will start the verification process to confirm that you are indeed a manager or owner of that business. After the confirmation process, you now have full control of managing your hotel's Yelp listing.
If you don't claim your listing, you won't be able to control your hotel's presence and you won't be able to improve your listing and respond to reviews.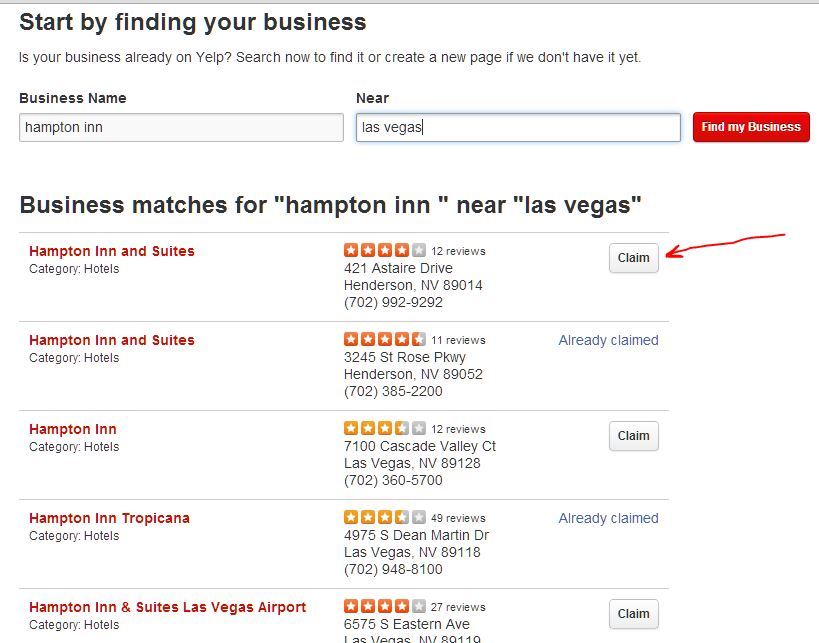 Now, if your hotel is not listed yet, creating a page is as easy as creating a Facebook page.
Update Your Hotel's Information
Once you've been confirmed as a legitimate owner or manager of your hotel's listing page, you can now edit the information listed on your page. Sounds simple enough? Yes, but you wouldn't believe how easy it is for hoteliers and hotel managers to forget to update their listing with the most current and updated information.
Make sure that the address listed on your Yelp page is correct. Update your contact information as well as details pertaining to rates, your hotel's facilities and amenities, and other pertinent information that you think will help your potential guests make the decision to book a room in your hotel.
Create A Head-Turning Photo Gallery
It's very rare for people to make a "blind" hotel booking. Aesthetics is an important criterion when people book a hotel – they want to see what they're getting into before making a decision.
If you already have stock high-res photos of your hotel, choose the best ones and upload them to Yelp. If  you have a TripAdvisor page, you can use the same photos you're using as long as they're high quality and perfectly represents what your hotel can offer.
Encourage Guest Reviews And Respond To Them

One of the primary reasons why people use social business listing sites such as Yelp is to see what other guests are saying about a particular hotel so they can make a more informed decision.
This is why it is important that you encourage your hotel guests to publish reviews about your hotel while they're still checked in and after. At SmartGuests.com, we have merchandising solutions that fulfill this objective. Our Staff Social Review Cards empower your hotel staff to be more proactive in soliciting reviews from your hotel guests while our Custom Candy Wrapper PDF Template is a great way to personalize your guests' experience at your property while encouraging social reviews.
Now, when you do get these reviews, make sure that you respond to them. For positive reviews, thank the reviewer and engage them in further conversation, highlighting the things they liked. For negative reviews, still thank the reviewers, acknowledge their frustration, assure that you're taking concrete steps to resolve their issue and hold anyone accountable and assure them that they can always contact you for further feedback.
List All Your Hotel Features That Will Attract Potential Guests
Travelers using Yelp to search for hotels can filter or refine their search by selecting certain criteria or hotel features such as free Wi-Fi, free parking, complimentary breakfast and the list goes on and on. This is why it is important that you list everything and anything your hotel has to offer to ensure that you show up in these relevant searches.
Constantly Offer Special Promotions or Deals
Incentivize Yelp users to book a room in your hotel by offering special promotions such as discounts, complimentary services and other attractive offers. Yelp has a feature wherein users can view the special promotions being offered within a particular vicinity and you want to appear in these pages to boost your hotel's Yelp presence.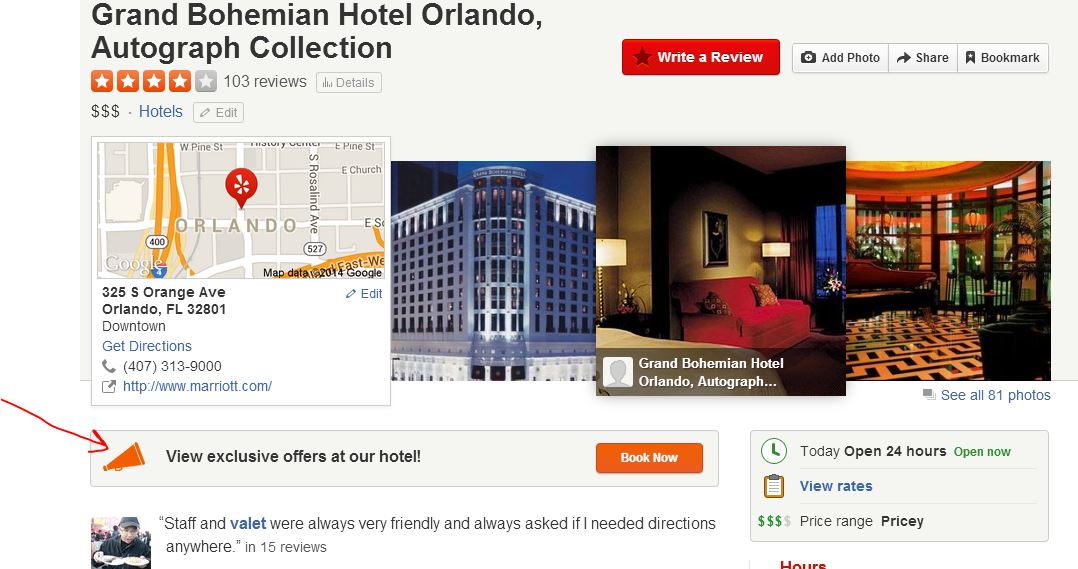 Yelp is a powerful marketing tool for your property if you use it correctly and maximize its features. As an immediate next step, claim your hotel listing if you haven't yet.
Hope this helps!
Also Read: 
TOOL: Learn How Multiple Business Listings Can Help Your Hotel

How to WOW Hotel Guests at Check-in
Ten Fast Ways to Becoming Highly Ranked on TripAdvisor
Four Free Social Media Listening Tools Your Hotel Can Take Advantage Of
Cookies: Spreading Good Fortune at Your Hotel
_______________________________________________________________________
Website: www.smartguests.com
Blog: www.smartguests.com/blog
Twitter: @smartguestscom
Facebook: www.facebook.com/smartguests
Google: Google+
Pinterest: http://www.pinterest.com/smartguests
image source: http://mashable.com