5 Hospitality Phrases Guests Remember Most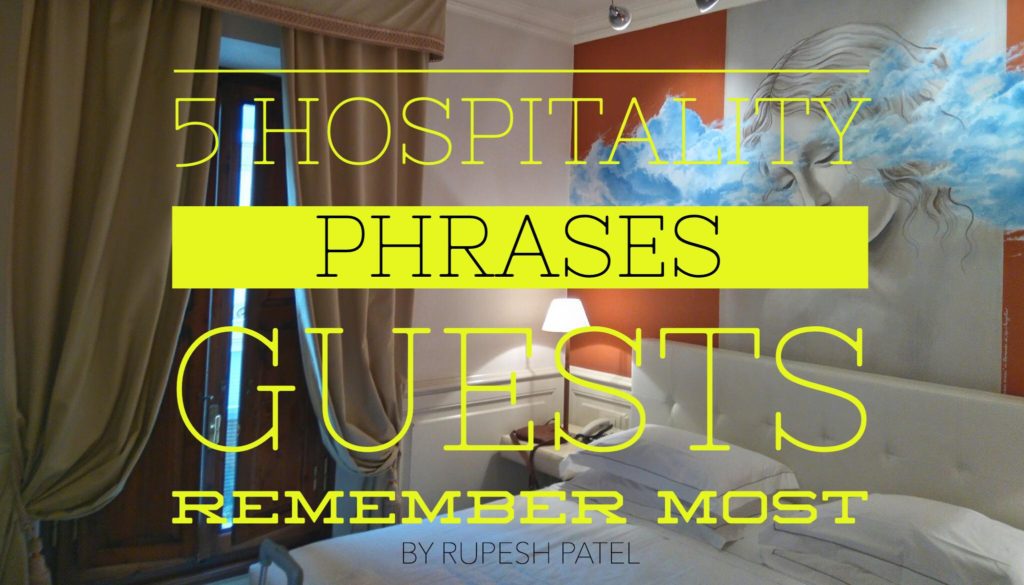 What are the words and phrases our hotel guests remember most? Is it "Welcome to our Hotel, Mr. Smith" or "What brings you to the area'? Learn the top 5 hospitality phrases you can say to build trust, engagement and bonds with your customers.
For many of us working in the hospitality industry, we hear and say phrases every day that at some point, become part of a rudimentary script we utter day in and day out. They become devoid of any feeling and any meaning, because at the back of our head, we might be thinking… 
"Guests don't care anyways."
But they do. According to human resource expert Joyce Gioia, "At one time or another, we have all experienced walking into a hotel or any business and receiving a lukewarm reception from the person behind the counter. When that happens, in my brain, I hear the words, "Oh boy, I'm in for a mediocre guest experience here―at best". In addition, not surprisingly, that less-than-optimum experience usually happens."
What we say to our guests is an important part of their overall hotel experience and this is why no matter how repetitive we might get, we must always utter these words with the highest level of sincerity.
Here are the five hospitality expressions that matter to our guests.
1. "It's My Pleasure…" / "I Am Happy To…"
Having a service-oriented work disposition is very important for us working in the hospitality industry. Guests stay in a hotel with a mindset that their needs will be catered to. Not only that. They expect the people tending to them will exude a certain level of joy in doing so.
This is why the expressions above matter. Telling your guests that it gives you pleasure or happiness to take care of them rubs off on them – meaning, they would feel more positive because they know that the people attending to them are happy to do so. They will feel more comfortable reaching out to you and your staff for their needs, as opposed to keeping their concerns to themselves, which can lead to bad reviews later on. Related: "It's My Pleasure" cards – Staff Review Business Cards
2. "Thank You…" / "We Appreciate…"
Technically, our guests don't owe us anything. They are paying for their stay and we have to make sure that they get their money's worth.
On the other hand we owe everything to our guests. Travelers will only come back to hotels where they feel that their business is appreciated. This is why every opportunity we get, we have to thank them. Thank them during check in. Thank them during the check out process. Thank them when they give you feedback. Thank them when they say nice things about you and your hotel. A simple "Thank You" can go a long way in terms of building a lasting relationship with hotel guests.
Learn How to Boost Staff-Guests Engagement
3. "Welcome…"
We don't get a second chance to make a first impression. The first interaction with guests is all we have to make them feel at home in our hotel. This is why we should never forget to give all our guests a warm welcome – no matter how tired we are or how late in the night it is.
You can be creative with this one. You can say, "Welcome to your second home in (insert the name of your city." Or "Welcome to the hotel of choice among travelers" or any brand proposition your hotel is known for. The important thing is to exude warmth and for your guests to feel that they are in a place where they belong. 
Also Read: How to Prevent Guests from Leaving Unhappy
4. "Is There Anything Else…"
Sometimes, hotel guests hold back on their requests because they don't want to be perceived as demanding or imposing. At the end of the day, this is a lose-lose situation both for the hotel and the guests. The guests don't get what they want and the hotel is perceived in a less positive way.
Train your staff to ask guests if there's anything else that they need or want. Though your hotel might not be capable to give everything that your guests want, at least you showed that you have the intention to make their stay as ideal as possible to the best of your abilities.
5. "We're Looking Forward To Having You Again As Our Guest"
Again, a simple expression that goes a long way. Of course, you want your guests to book with you repeatedly every time they travel to your area. But you have to say it. Never assume that this is already a given and that your guests don't need to hear it. In fact, if you don't say this, you might just make your guests feel that you did not enjoy having them in your property.
You can also say: "We look forward to hosting…"
In the hospitality industry, these expressions are definitely more than just words. They articulate your passion to serve your guests. They establish your willingness to give them the best hotel experience you can. These words show your gratefulness that they chose your property among other hotels. Use our CareFresheners as a token of your hotel's appreciation.
They are powerful expressions that can make a difference in the success of your hotel.
Do you have any other words or phrases that you use? I would love for you to share them with me. 

Allow us to help you and your hotel build engagement, visit www.smartguests.com, and buy tools to start improving your hotel.
Have a successful day!
Rupesh Patel
Become an exclusive member of the SmartGuests Newsletter. Sign Up here.