How to Prevent Guests from Leaving Unhappy
Capturing feedback before customers leave your business should be a priority. Learn how to stop guests from leaving unhappy and posting negative reviews.
One bad review — in this day and age when word-of-mouth spreads like wildfire, this is all it takes to start a chain of events that can ruin the reputation of your hotel. According to surveys, disgruntled hotel guests are more likely to post a review online compared to satisfied guests and for every bad review, your hotel can lose up to 30 potential bookings.
That said, hotel managers are not helpless when in the face of these negative reviews. Just like in medicine, prevention is better than cure. The key is to address the issue before your guests leave your hotel, before they can go online and post a negative review. If you handle the situation well, you can turnaround this bad situation to your advantage.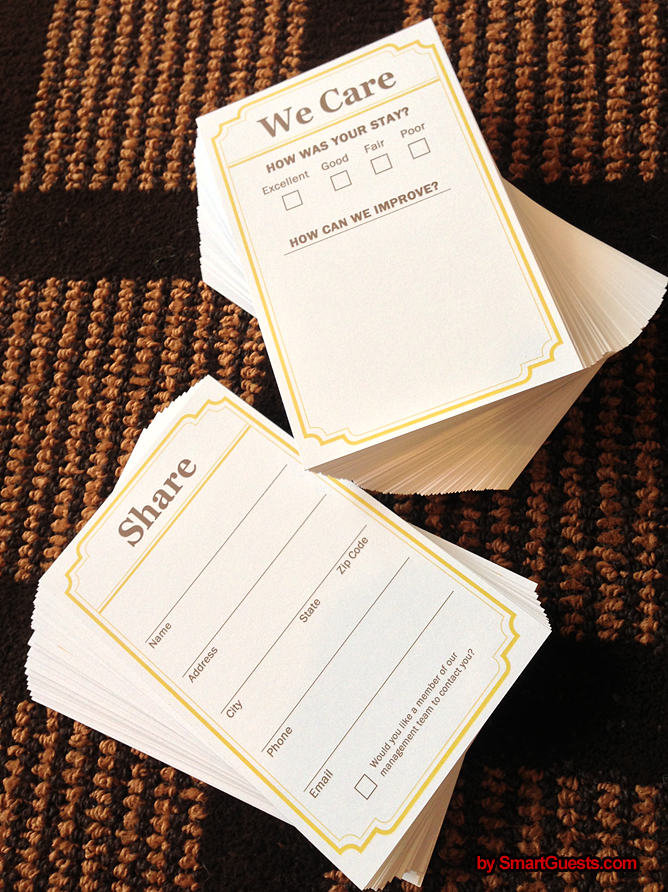 The Best Prevention is Care
 One of the things hotel owners don't realize is irate, angry or dissatisfied customers are just waiting to be asked how their stay or hotel experience was. Surprisingly, many front desk staff fail to ask this as their customers check out.
This is exactly why we created the We Care Cards. It's almost embarrassing just how simple they are, but they are extremely effective. It's essentially a redefined and simplified version of the traditional hotel survey cards of the old times. This time, we made it less cumbersome. One of the downfalls of the old survey cards hotel distribute is the number of questions they have. Most of them are unnecessary and when guests are rushing during check out, they really don't like being bothered with dozens of questions. Plus, these surveys are usually sent via email days after the guest left the hotel and have most probably ranted about your service on TripAdvisor and their social media channels. In short, the damage has been done. Our We Care Cards prevent all these.
As mentioned, our cards only have two questions on them. We ask them to rate their stay from poor to excellent and how we can improve. Asking guests for their suggestions is a good way to demonstrate that you indeed take guest experience seriously. An apology is immediately extended to guests who rated their stay "Poor" as well as to those who had negative feedback or comments. We then ask them if they would like to talk to a hotel management staff to resolve whatever issue they encountered and we remedy the situation depending on the extent of the complaint — we can ask "What would you like us to do for you?", apologize, give discounts, a free night's stay, etc. This is when you can turnaround a negative situation into positive publicity for your hotel.
Here is the process and our recommendations.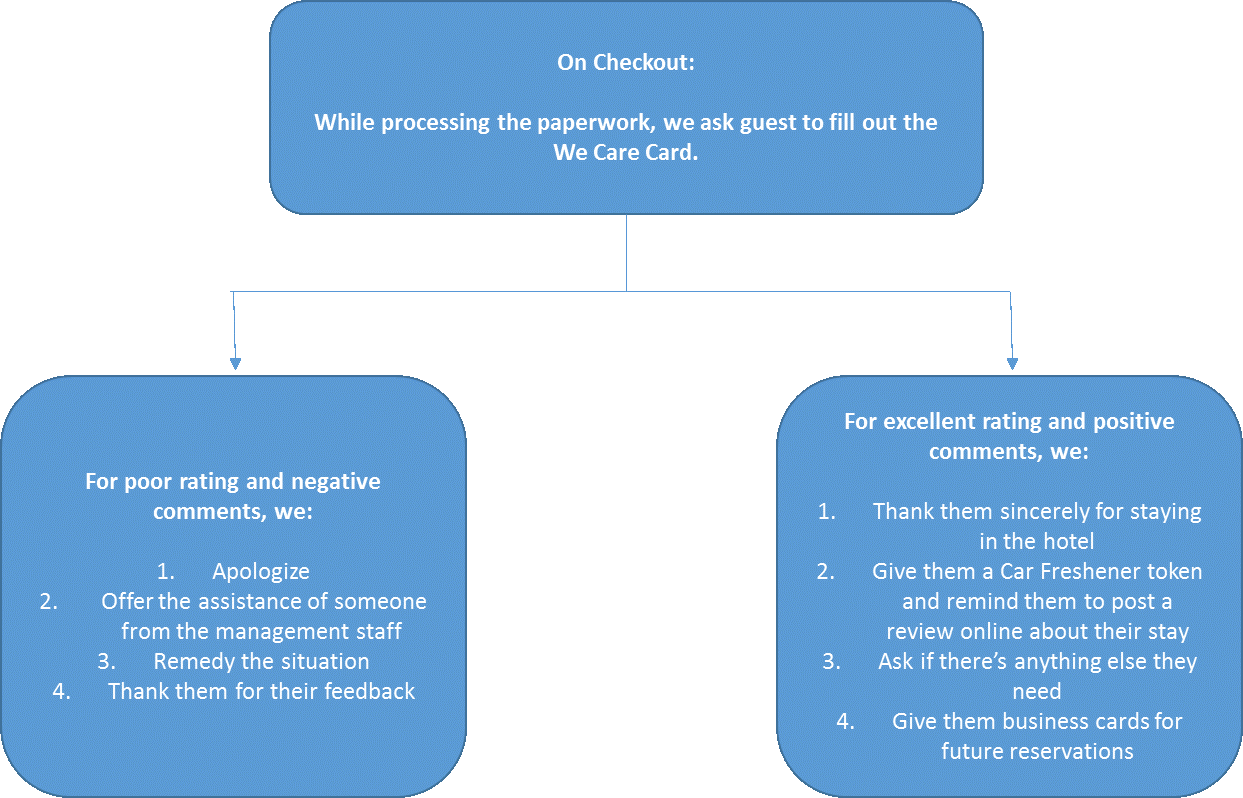 We Care Cards — They Work!
These We Care Cards are deadly simple, but they do work! Proof of which is how our Quality Inn Daytona Speedway is currently top ranked among all Quality Inn franchises across the country and highly reviewed on TripAdvisor for the Daytona Beach area — a feat that we're really proud of and our use of the We Care Cards is definitely an important contributor to this success. Check out below an anecdote from Deborah, our hotel General Manager on how our use of the We Care Cards thwarted a possible negative review: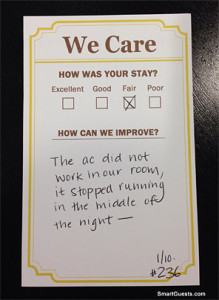 Here is a recent guest's feedback. A busted AC is a common source of dissatisfaction among hotel guests and the guest who filled up the We Care Card above could have easily posted a negative review on TripAdvisor or posted about it on Facebook or Yelp. Because of the We Care Cards, we were able to get their direct feedback before they left the hotel and our hotel manager was able to do something about it. Turns out that all they wanted is a sincere apology for what happened. We said sorry for what happened, promised that we will fix the problem and to compensate for the inconvenience, we offered them to come back for a free night's stay. At the end of the day, they left happy and we prevented a possible negative review that could have smeared our hotel's reputation.
The Clarion Inn in Lake Buena Vista also uses these We Care Cards and they were able to elevate the level of guest experience in their hotel. Recently, they also implemented the use of the cards in their restaurant to improve their guests' dining experience. Just ask Jennifer, the hotel's manager, on how the We Care Cards worked for them.
You can never tell what a dissatisfied guest can say about you online. Never let a dissatisfied guest walk out your hotel door. Our We Care Cards is a perfect example of how a dose of care can go a long way.
Get more Ideas, Expert Advice & Tools.

Get more tips and the latest updates delivered to your inbox. Subscribe and Get a Free Marketing Tool Now.
Related:
Top 17 Questions Staff Must Ask
__________________________________________________________________
ABOUT: Rupesh Patel leads SmartGuests.com, a U.S.-based hotel marketing firm that is devoted to helping hotels and hotel managers improve their online presence and customer engagement, through innovative engagement tools and strategies. He also consults and trains hotels on Customer Service Excellence and "How to Get Guest Reviews Everyday".
Twitter: @smartguestscom Blog: www.smartguests.com/blog
Facebook: www.facebook.com/smartguests
Pinterest: http://www.pinterest.com/smartguests