What to Do When Guests Threaten Your Hotel with a Bad Review?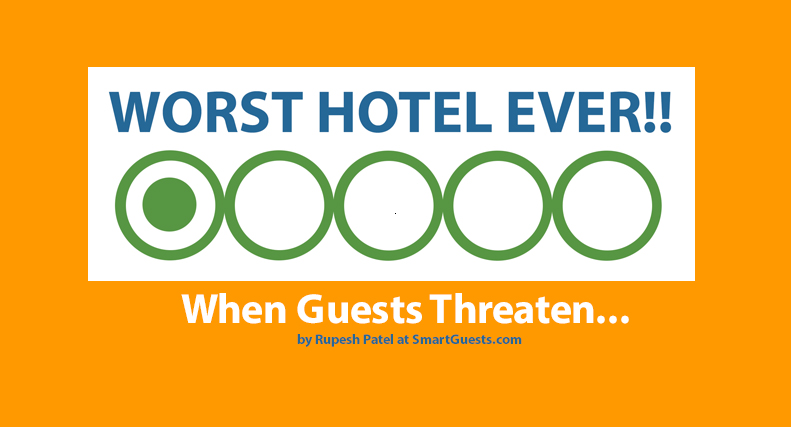 Every hotel professional knows that online reviews such as those published on TripAdvisor can make or break a hotel. Recently, it has become evident that it's not only us in the hotel industry who know this. Guests have come to realize how important social reviews are… and how it can be an Achilles Heel for a lot of properties.
There are a number of guests who exploit this to make hotel managers and hotel staff to cave in to their unreasonable demands. They threaten hotel staff that they will publish a negative review if they don't get what they want – whether it's a room upgrade or a free night's stay.
Hotel staff who are subjected to these threats are caught up in a difficult situation – they don't want to cave in to the guests' unreasonable demands, but at the same time, they wouldn't want to be the reason for the hotel to get a negative review.
So, how do you prepare your staff and yourself to stand up against these threats?
Show Compassion
When it comes to dealing with hostile guests, the general rule is to show kindness and compassion amid the anger that the guests is showing. You cannot fight fire with fire. 99% of all threats stem from frustration and disappointment and you have to disarm your angry guests by showing compassion. Most of the time, even if you don't solve the problem, it's enough that your guests saw you exploit all means to make them happy.
If at the end of everything all the guest wants is to get a free room, then you have to accept the fact that you just might have to let go of their reservation and help them find another hotel where they can stay. It would mean lost revenue for your hotel, but at least you did not become that hotel that gets bullied around.
Document Everything
Believe it or not, but hostel hotel guests who blackmail hotels actually share information with one another. They tip off one another on what hotels can be extorted. This is why giving in to their needs will have long term repercussions because people will see that you are vulnerable to these types of exploitation.
Just like any dispute, no one can argue with facts – they are absolute and irrefutable. When dealing with guests who are demanding freebies, document everything. Every note you sent them. Every call you made to their room. Everything you did to appease them and make the situation better. This will clarify everything and no bad review can harm you if you have the facts on your side.
Alert TripAdvisor Before a Bad Review Is Published
Not a lot of hotel managers know that they can actually preempt a bad review even before it is submitted or published, especially if they suspect that the review will be malicious and will be submitted by a guest who was trying to extort the hotel.
TripAdvisor has a protocol for hotel operators to get in touch with its Management Center and alert them that they a malicious review for the hotel might be submitted to the site. You have to do this within the hour after a threat was made. TripAdvisor would investigate and would not publish the review if they found it malicious. This is also where the documentation we discussed above comes into play because it will give TripAdvisor what really happened versus what the guest would say in their review.
TripAdvisor is one with hotel in fighting these malicious reviews because it can also ruin their reputation, not just the reputation of the hotels being criticized.
Don't tolerate blackmail. Follow our tips above and train your staff to handle hostile guests who have bad intentions and who just want to milk whatever they can from your hotel. As long as you are confident that you did everything you could to address a complaint, then you have nothing to fear.
Also Read: How to Prevent Guests from Leaving Unhappy
Get more Ideas, Expert Advice & Tools.

Get more tips and the latest updates delivered to your inbox. Subscribe and Get a Free Marketing Tool Now.
Related:
Top 17 Questions Staff Must Ask
_______________________________________________
ABOUT: Rupesh Patel leads SmartGuests.com, a U.S.-based hotel marketing firm that is devoted to helping hotels and hotel managers improve their online presence and customer engagement, through innovative engagement tools and strategies. He also consults and trains hotels on Customer Service Excellence and "How to Get Guest Reviews Everyday".
Twitter: @smartguestscom Blog: www.smartguests.com/blog
Facebook: www.facebook.com/smartguests
Pinterest: http://www.pinterest.com/smartguests