10 Positive Things that Result from Positive Reviews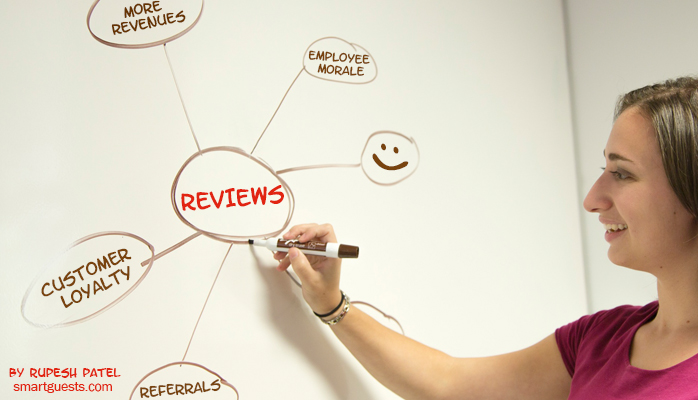 With great reviews comes great rewards.
Reading positive reviews about our hotels makes me feel like a kid again, opening presents on Christmas morning. Seeing that we really made a difference in our guest's stay and provided a unique experience brings me joy. It's elating, it's exciting, and it's probably the best validation of our hard work to make our guests, clients or customers HAPPY.
If you see me glued to my computer screen with a big smile on my face, it's because I'm looking at these positive reviews and the affect is has on our financial statement. You can say I'm sort of obsessed with our online presence, especially reviews!
(If you enjoyed this article, hit the Follow & Thumbs Up button + Join our free Hospitality Marketing Newsletter featuring unique tips to make your business stand out)
The benefits of getting positive reviews go beyond this personal giddiness. Here are just 10 of numerous rewards that you will reap if you work hard to get positive reviews for your business.
Higher Revenue
According to a research conducted by Cornell University, positive reviews can boost your occupancy rate by 0.54% and lead to a 1.42% increase in your Revenue per Available Room (RevPAR). In short, you earn more money which you can use to improve your marketing, your hotel amenities and your services. More money in everyone's pocket!
Builds Customer Loyalty
You've heard it a million times, it's more expensive and more difficult to acquire new customers than to retain existing ones. It's true! Would you be loyal to a business with a bad reputation? I wouldn't. Having a positive reputation gives your customers a big reason to stay loyal with your business. It gives them prestige to be a patron of a business that is so well-loved by many.
More Referrals
According to a research by TripAdvisor, travelers post reviews to help other travelers make informed choices. They will only recommend your hotel or your business if you're great. The more positive reviews you have, the more referral customers you get.
(Related: Why Your Guests Are Not Writing Reviews, solutions included)
Your Company Value Increases
If you've ever traded in the stock market, you know that public perception greatly influences that value of a company. If you're getting praises, your company value goes up. If people are throwing dirt at you, your company value goes down. Your business is worth more if you have a great reputation.
Your Customers Treat You Better
We've all experienced rude and unkind customers at our businesses. It happens to the best of us. These customers usually preys on businesses with bad reputation because they know they can take advantage of their weakness. Businesses with a positive online reputation can also attract more positive customers. Good business, good customers.
Better Search Engine Rankings (SEO)
When people are sharing social media posts and publishing reviews about your business, Google and the other search engines will take it as a cue that you are doing something right. Over time, your search engine rankings will increase and it would be easier for new customers to find you.
The Right to Charge More
If you're running a highly rated hotel, you can increase your room rates by sometimes 5-20% without affecting your occupancy rate. It's the same for other business in other industries. Take the example of Apple. Because their customers are raving about their products, they can comfortable charge premium rates for their products.
(Free Guide: Get 35 Best Ways to Respond to Guest Reviews)
Boost Your Employees' Morale
No one wants to work for a company that is being bashed online. Would you associate yourself with a business that has a bad reputation? I would be embarrassed to work there. On the other hand, if your business has a positive reputation online, your employees will feel that they are a part of a well-loved organization and they will be motivated to deliver their best every day.
Gain the Respect of Your Peers
Have you ever been in an event or gathering when someone really respected in the industry steps into the room and everyone just falls quiet, and listens? Wouldn't it be nice to be that person? Knowing that you have the respect of your peers is a great morale booster and very motivating.

10. Great Partnerships with Vendors and Other Local Merchants
When you have a positive reputation online, other businesses would want to piggyback on your popularity and they will give anything to be associated with your name. This is why big brands will often get partnerships with other businesses adding more value for their customers. Get more positive reviews and expect to see area businesses coming to you for possible partnerships.
Positive reviews not only give us positive vibes. They also improve our businesses in all aspects.
There are hundreds of ways to improve your reviews, choose tools and strategies that will result in a long term value for your organization. SmartGuests.com offers tools to help your business engage with customers and that result in positive reviews. Contact us to learn more about how we can help you.
What are you doing to boost your online reputation? How are you getting customer feedback every day? I would love for you to share your insights and experiences below.