Free Guide: Get 35 Best Ways to Respond to Guest Reviews
Do you read customer reviews before buying a product or booking that dream vacation? Do your customers look at ratings? Learn how to reply to reviews.

I sure do. Just last week I was on a mission to find a decent computer for my kids. Side Note: My kids are only 4, 5 and 7, but have homework like a high school student. So I needed a sturdy and reliable workhorse that could do the job.
I decided to do my research online at that popular store that sounds like Rest Dry..wink wink. After getting to the All-In-One PC page, I naturally modified the results to start with "Customer Ratings". I read about 10 reviews and compared the top three computers, then went with the one that had the best reviews.
So why did I choose the most popular? It wasn't even the newest one. It didn't have the most RAM or biggest hard drive. And for sure it wasn't the cheapest. I choose that computer because it was the most popular and other people like myself had great things to say about it.
I'm pretty certain most people read reviews before making a smart decision. In the hospitality industry, guest reviews are so important that it's a matter of life or death. A positive review can make you and a negative…well you get the picture.
So what can hotel operators do to make get positive feedback and create a great online presence? Start by asking happy customers to post a review, using tools such as Staff Review Cards, CareFresheners and Review Stickers. Once your guests have posted a review, response to it immediately (24-48hrs)!
Why is responding to guest reviews important? According to a research by TripAdvisor:
87% of travelers agree that a right response from the hotel management to a bad review improves their impression of the hotel.
77% if travelers said that they it would make them believe more that the hotel cares about their guests if the management responds to online reviews
62% of those who were surveyed said that they are more likely to book a hotel that responds to review compared to a relatively similar hotel that does not respond to reviews
With online reviews playing a bigger role in the decision-making process when travelers scout for hotels, it is more important for you as hoteliers to manage your online reputation better by responding to reviews.
As a hotel consultant, I hear managers tell me weekly.. "I don't have time to respond" or "I don't know how to respond". To these frustrated people I say, No worries, I have a list that you can reference in times of need. So today I want to share that list with you also.
Here are just 5 of the 35 useful ways to respond to guests reviews that are Excellent, Good and plain Ugly (Download the entire Free Guide that include all 35 timing saving responses). Get it here.
Responses to Positive Reviews
1. Dear Traveler. Thank you for your review and for choosing our hotel. I'm happy that you enjoyed your stay and I'm looking forward to having you again as a guest in our hotel.
2. Dear Guest. I appreciate your positive feedback about our hotel. We do take pride in catering to our guests' needs the best way we can. If you're traveling to our area gain soon, don't hesitate to call us.
3. Dear Happy Guest. Thank you for giving us a perfect rating and for recommending our hotel to other travelers. I'm sure our entire hotel staff enjoyed catering to your needs as much as you enjoyed your stay. Take care!
4. Dear Guest. Thank you for taking the time to review your stay with us. I am very pleased to hear that our staff made your stay pleasant. Do checkout our Facebook and Twitter pages for promos that you might be interested in. Looking forward to seeing you again soon.
5. Dear Guest. Thank you for your positive comments. I am so glad to hear that you enjoyed your stay with us! I hope your next stay and just around the corner. Call us if there is anything we can help you with.
The following response examples are also included in the free guide.
Click here to FREE GUIDE
Responses to Positive Reviews of Guests Who Stayed in Your Hotel for a Special Occasion
Responses to Travelers that Have Stayed In Your Hotel Several Times Already
Responses to Positive Reviews that Mention Your Staff
Responses to Positive Reviews that Mention Your Hotel's Location
Responses to Mix Reviews (Reviews that Contain Positive and Negative Points)
Responses to General Negative Reviews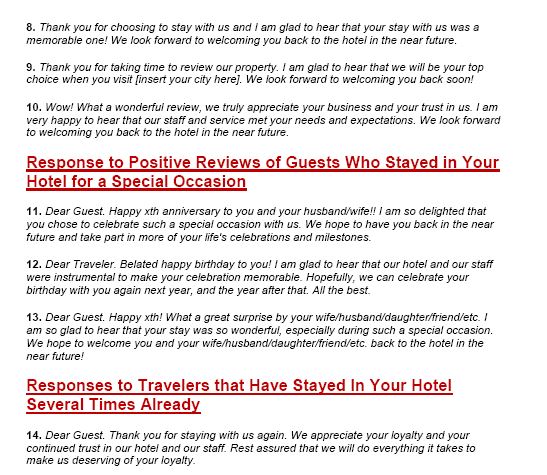 Take note that the best way to respond to online reviews is by writing authentic, personalized and customized reviews depending on what the guests published. However, in situations that you are pressed for time, feel free to use the templates above and do a bit of tweaking to make it more personal. Get the entire 35 time-saving responses here for free.
Want to boost your hotel's online presence and customer service scores? Let me help you create the right strategies to help maximize profits and build a strong reputation.
Visit www.smartguests.com, and buy tools to get the job done!
Have a successful day!
– Rupesh Patel
_______________________________________________________________________
PS – Be a Good Friend… Tell your buddy or fellow hotelier to become an exclusive member of the SmartGuests Newsletter. Sign Up them here.