TOOL: Learn How Multiple Business Listings Can Help Your Hotel
Multiple Business Listings for Business
The money is in the list – in email marketing, this is a mantra everyone follows. In marketing your hotel, this mantra is also applicable given a small tweak:
The money is in the listing.
Unless they have completely decided to book a room at your hotel, it's very rare that leisure and business travelers will go directly to your site. In fact, consider your site as your prospects' final destination (for direct bookings). Chances are, they will first hear about your hotel from somewhere else, research some more about your property, and finally, visit your site. This is why being present across multiple business listings and hotel directories boost your chances of engaging potential guests as they are in the process of making a booking decision. AND help steer them away from the OTA's (Online Travel Agencies; booking.com, hotels.com, etc..)
Let's take a deeper dive and explore one-by-one some of the primary reasons why listing your hotel across numerous channels is crucial to your success.
Increase Search Engine Ranking
In the study entitled The Traveler's Road to Decision, Google revealed that 56% of all travelers begin their travel booking journey with search engines. More specifically, 96% of all leisure travelers begin their hotel booking process with search. Testament to the crucial role search engines play the hotel booking process is the rise of Google Hotel Finder – a mini search engine dedicated to hotels. [ Related: Claim your Google Listing ]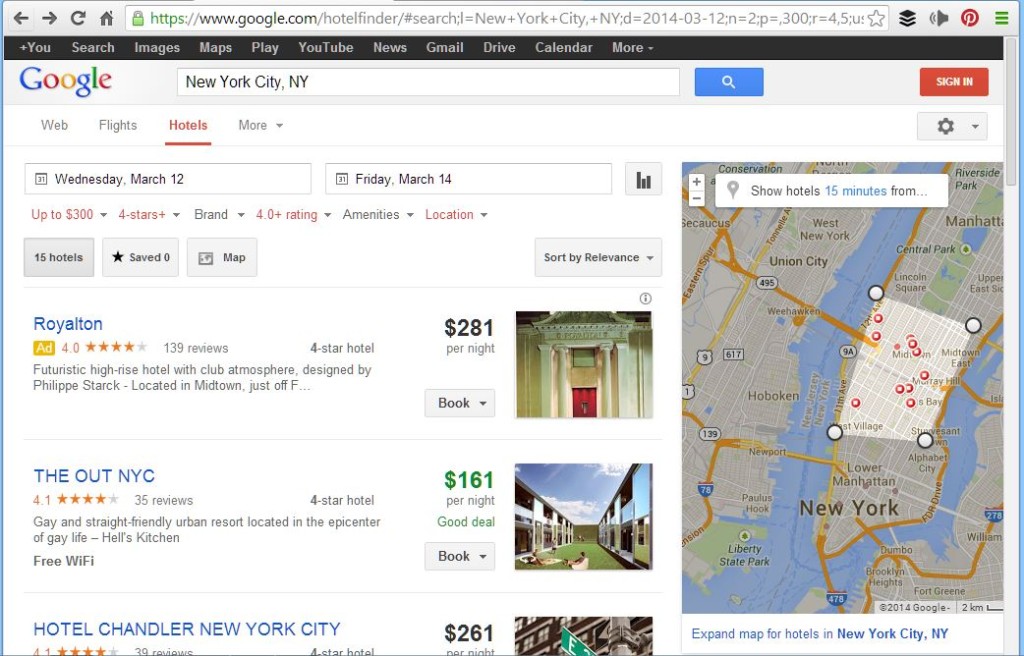 One of the main ranking factors in search engine results pages is the number of backlinks hotel have. And we're not only talking about quantity. The quality of the backlinks also matter, which means they have to come from reputable sites with high page rank and authority. Being listed across multiple hotel listing channels increases the quantity and quality of backlinks to your site.
Ranking High in Local Search
Apart from your overall search engine ranking, your hotel also needs to have a strong local search presence. According to business listing solution Yext, the world is getting smaller because of local search. As people use more mobile devices, their searches also become more local, which includes their search for hotels.
Most hotels are listed on TripAdvisor, Hotels.com and Google. But is yours listed with Yelp, Bing, City Search, Superpages, FourSquare and others? Listing your hotel across different channels will boost your local search presence because most of these listing platforms are geo-specific. Now, we know that you are already busy with the day-to-day operations of your hotel (training staff to engage more with guests or helping put out a fire in the laundry room – *this can happen*) , which is why we highly recommend that you take advantage of the tools that can save you time and make you more money. Enter Yext! Yext is a powerful tool that is being used by thousands of  properties, from independent to branded, from mid-market to luxury hotels. Yext ensures that your business information is complete, accurate and up-to-date. Plus, Yext has 50+ partners that include apps and listing channels. Improve your online presence with Yext.

Piggybacking on the Listing Sites' Existing Subscribers
Listing sites and hotel directories have their own subscribers and they employ their own marketing strategies to keep their subscribers engaged. They have newsletters, promos and other deals with their partner hotels. For example, Yext allows you to offer special promos to potential guests. Piggybacking on the existing marketing leverage of these listing sites is a great way to increase your hotel's visibility and booking rates. Fix your online listings everywhere in minutes.