10-Day Hotel Social Media Marketing Road Map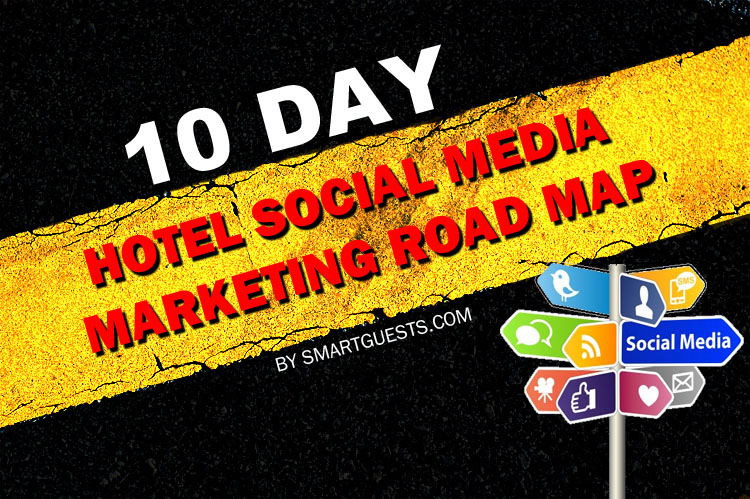 If your hotel is brand new to social media or you just need tips, this is the article for you. Learn how to easily get started on marketing your hotel through these key social channels. Take Action. Get Started Today!
 I don't know where to start.

 I simply don't have the time.

 I'm overwhelmed with the amount of information.
 These are the usual reasons we get from hoteliers and hotel managers when we ask them why they don't have a social marketing strategy in place. While these reasons are valid, how long can your hotel still survive without social media? There is definitely urgency involved here, especially with several studies and researches proving how social media affects people's hotel booking decisions –
3% of travelers changed their hotel bookings after using social media on research
69% of all travel companies including hotels saw traffic growth from Facebook and 46% saw traffic growth from Twitter
52% of the respondents said that their friends' photos on Facebook inspired their next trip
55% of Facebook users use the site to seek travel advice
But we understand where you're coming from and why you're probably stuck. We've experienced not knowing where to start. We can relate to how busy you are. We know how easy it is to get confused with the overwhelming amount of information out there.
So we came up with a solution – a 10-Day Social Marketing Road Map for hotels. Basically, this is something you can implement over a 10-day period. Instead of building the foundation of your hotel's social media marketing in one go which can be daunting, we broke it down into 10 days. Each day you have to accomplish something and it should not take more than 30 minutes per day.
Ready? Here it is.
Day 1 – Create a Facebook Business Page
You jumpstart your hotel's Facebook presence following the steps below: https://www.facebook.com/business
Choose a Category
There are six business categories to choose from. For hotels, click on Local Business or Place. Once you click on it, another form will appear. Select "Hotel" for Category and then enter your business' basic information – the name of your hotel, your address and phone number.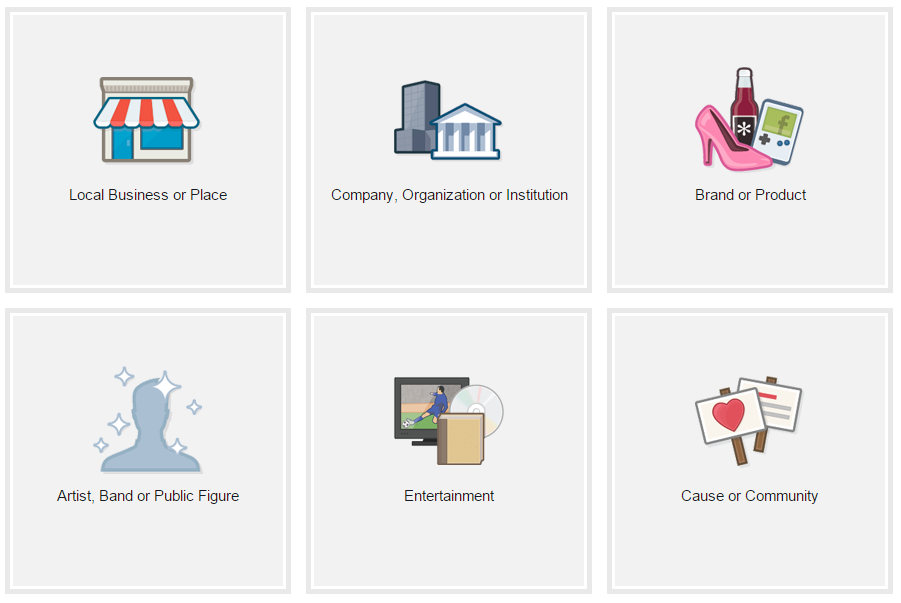 Complete Your Hotel's Basic Information
There are four basic sections you need to fill out: 
About
This is similar to the About Us page of your website. It provides a general description of your hotel and is very helpful to potential guests when they look for your page on Facebook. Be brief but descriptive. You can also include a couple of your target SEO keywords because Facebook pages are also crawled by search engines.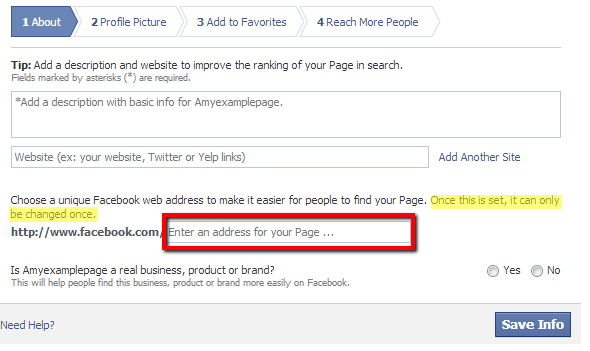 Profile Picture
Choose an appropriate profile picture for your Facebook page. It can be your hotel's logo or an exterior shot of your hotel. You should use a profile picture that is 180×180 pixels for best results.
Add to Favorites
This is optional but we strongly recommend you do this so you can closely monitor and access your Facebook Page. Adding your Facebook page to your favorites will add it to the left navigation pane of your personal page so you can easily access it any time you want.
Reach More People
Facebook will ask you to set up an ad campaign to reach more people. However, if you're new to Facebook marketing, we recommend that you don't do this yet. Start with sharing good content and getting into the groove of updating your Facebook Page every day. Once you have a system, then you can start learning about Facebook advertising.
RELATED: A Hotelier's Guide To Using Yelp
Day 2: Set Up Twitter Page
Setting up a Twitter account is extremely easy. https://business.twitter.com/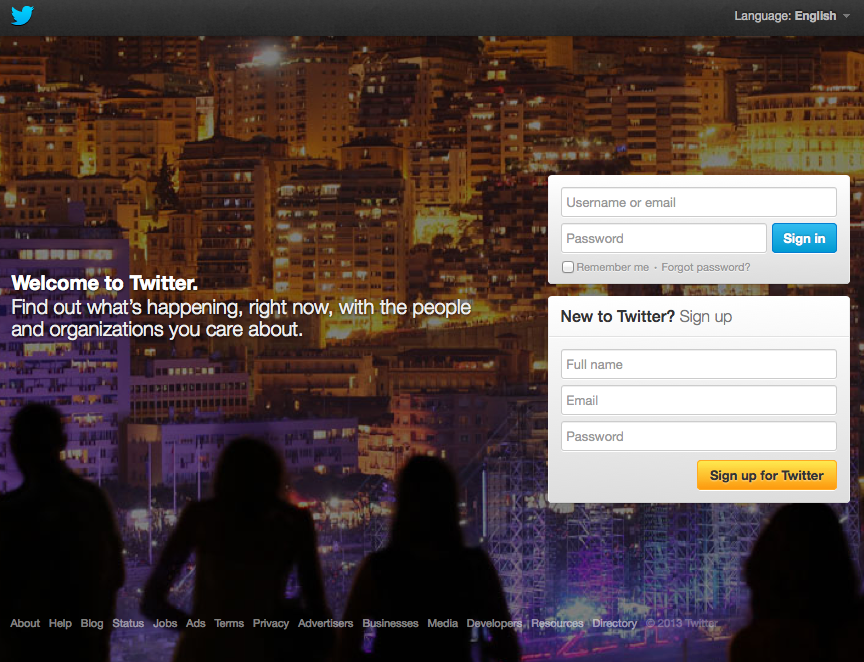 Go to https://business.twitter.com/ and sign up for a new account
Fill out the basic information. Use your hotel name for your username so people can easily find you.
Go through the initial tutorial. This is super easy to understand and just takes a couple of minutes.
You can sync your email contacts with your email account. We don't recommend that you do this yet because you want your Twitter account to already have content before promoting your Twitter page.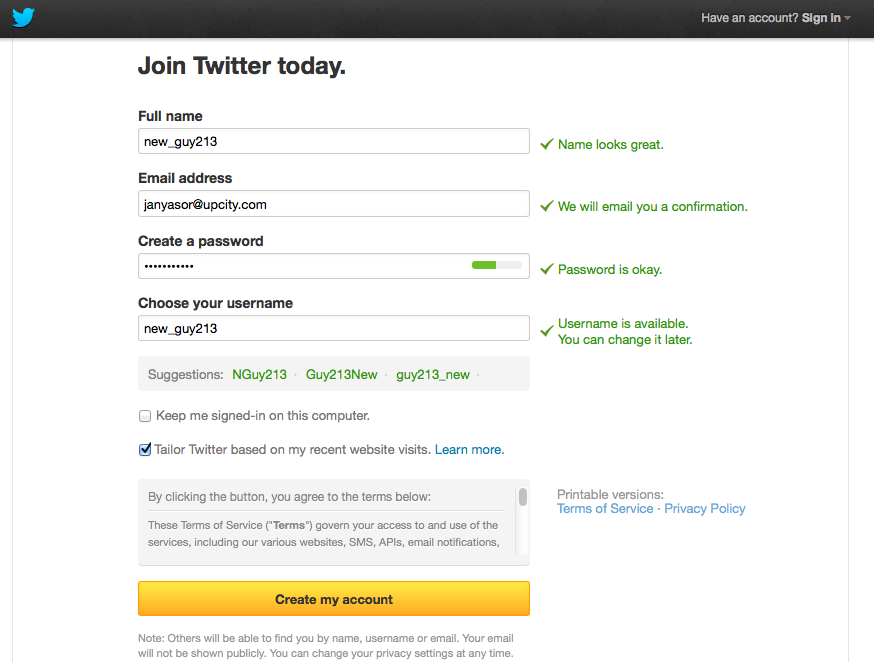 Add a profile photo and a business description. Our suggestion is to use the profile picture you used for your Facebook page for consistency. You're only given 160 characters to describe your hotel, so be very wise and make sure it really captures how you want to position your hotel.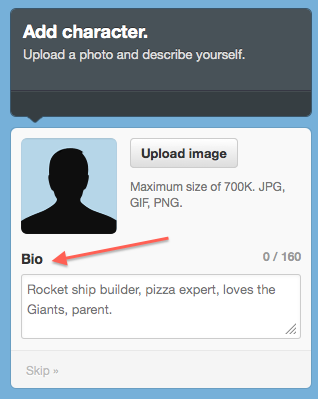 Confirm your account by following the verification process sent to your email. Once you've confirmed, you can add more info to your profile including your Time Zone, your location, your website, etc.
That's it for Day 2! Opening a Twitter account should not take you more than one hour (some people do it in 10 minutes).
Now Trending: 20 Social Media Contest Ideas to Promote Your Hotel
Day 3: Create a Pinterest Business Account
Before booking a room in a hotel, traveler want to see what they're getting themselves into. This is why visual content is very important to promote your hotel online. Pinterest is the best social media platform when it comes to sharing images and it's been helping a lot of businesses over recent years. In fact, social media experts have found out that referral traffic coming from Pinterest is the highest converting and most profitable!
Signing up for Pinterest is as easy as one-two-three! https://business.pinterest.com/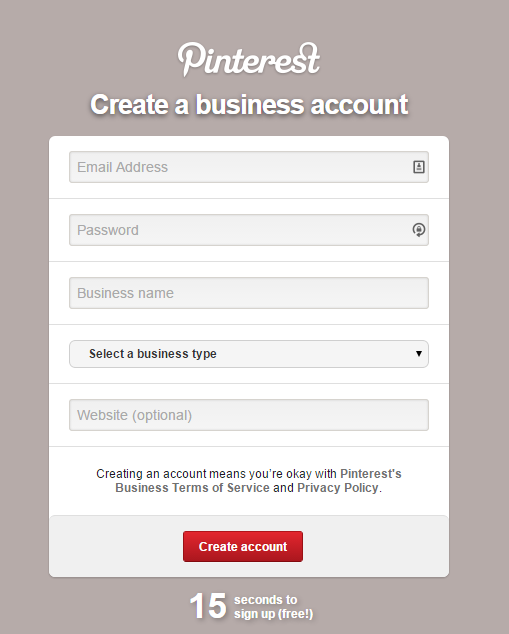 Step 1. Sign up for a Pinterest Business Account at https://www.pinterest.com/business/create/.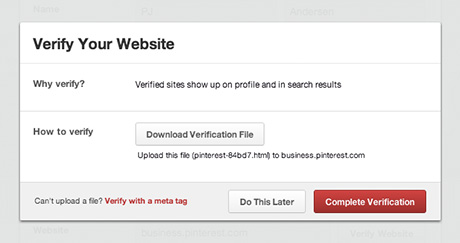 Step 2. Verify your website. You can do this in two ways – using an HTML file or a Meta Tag. Don't worry. It's not as complicated as it sound and Pinterest provides easy to understand instructions. Once you've verified your website, a check mark will appear beside your URL or profile name. The advantage of having your website verified is it gives you access to your web analytics.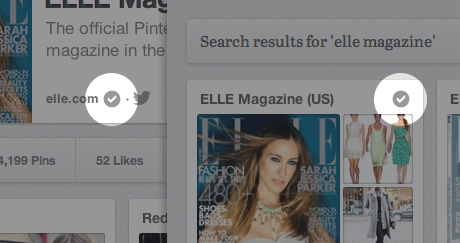 Step 3. Get the "Pin It" button and put in on your website. This will make it easier for your site visitors to share your content on Pinterest.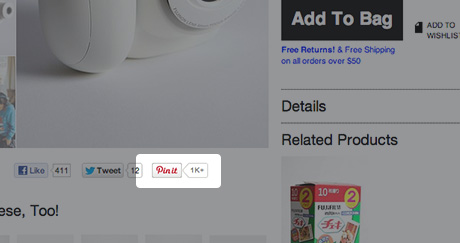 That's it for Day 3!
Also read: Ten Fast Ways to Becoming Highly Ranked on TripAdvisor
Day 4: Create a LinkedIn Business Account
Gone are the days when LinkedIn is just an online depository of resumes where people look for jobs. Today, it's a social network platform where like-minded professionals and experts from different industries come together to discuss their common interests and passions.
https://business.linkedin.com/marketing-solutions/company-pages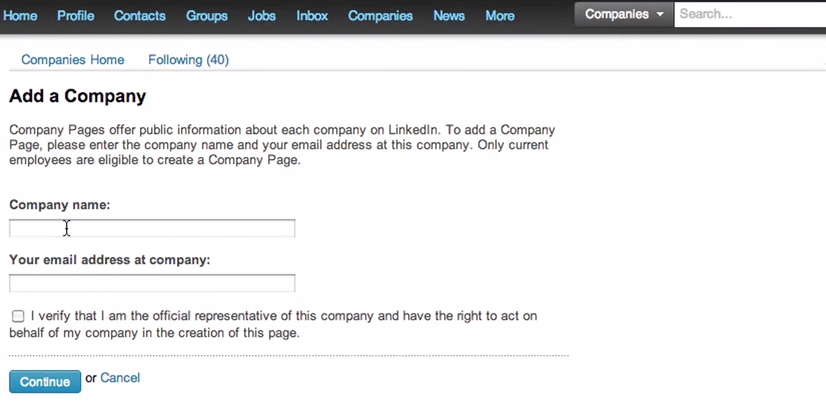 Creating a strong LinkedIn presence for your hotel is a great way to boost the credibility of your property, expand your online reach, and open your hotel to a new potential revenue stream.
Of course, it all starts with creating a business page or a company page for your hotel. Doing this is extremely easy.
Step 1. Sign in to your personal LinkedIn account. Hover over the top navigation menu and click on companies. Then click on Add a Company and enter your hotel name and your hotel-provided email account.
Step 2. Go to your inbox and click on the verification link. This will take you back to the LinkedIn Sign In page. Enter your login information.
Step 3. You can now provide more details for your company page. For your hotel, pay close attention to how you write your company description and make sure it differentiates from other hotels in LinkedIn. Make it professional-sounding rather than sales-sounding. Upload an appropriate profile photo such as your hotel logo or a panoramic shot of your hotel's exterior.
That's it! Your hotel now has a LinkedIn Company Page. You can add your hotel staff as admins of the page so they can contribute content and maintain your page on your behalf. Just make sure that you have them as your personal connections.
Day 5: Set Up a Google+ Account for Your Business
Google+ has not really taken off like the other social networks and its popularity remains to be trailing behind Facebook and Twitter. So, why does your hotel need a Google+ account?
Here's the simple answer –
It's Google!
The search engine giant is still the primary source of all internet traffic in the world and it's very likely that Google has factored in a hotel's Google+ presence when ranking search results. Also, Google has another hotel portal called Google Hotel Finder and you won't be listed here if your hotel does not have a Google+ Business Page.
Here are the steps to creating your hotel's Google+ Business Page:
Step 1. Go to https://plus.google.com/pages/create and click on the Storefront category. Hotels belong under this classification.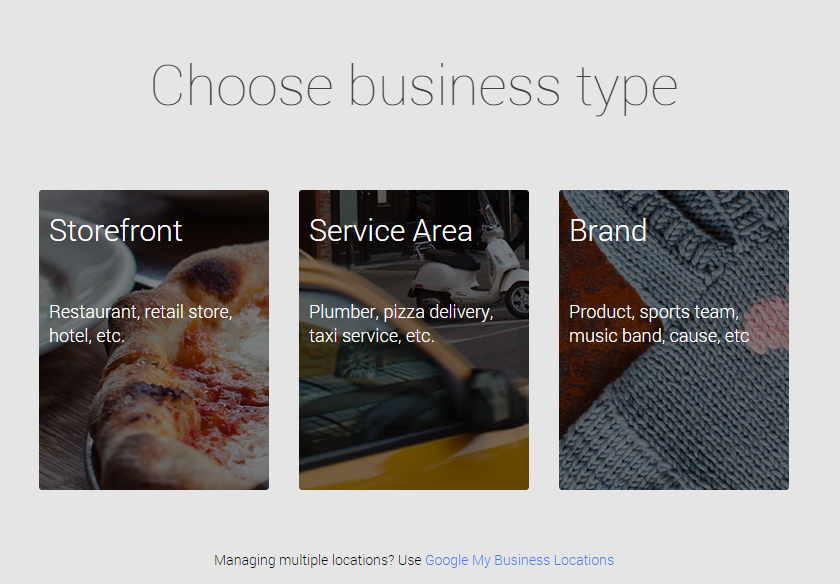 Step 2. You will be taken to a Google Maps page where you will be prompted to enter your business name. If there's already a page under your business name and it's being managed by someone else, you have to follow Google's transfer of ownership procedure which is essentially contacting the page owner and claiming your rightful ownership of the page. If you can't find your business on the map, then you can add it by simply filling out the form below: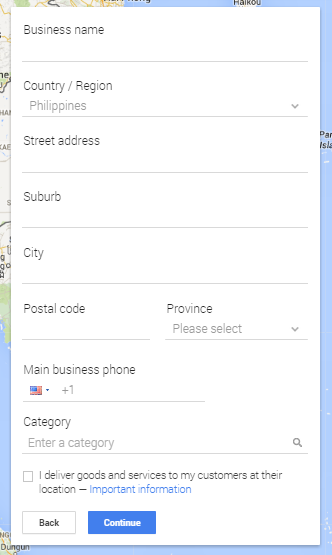 Step 3. Verify that you are authorized to create a page for this business. Google will a code via snail mail and you will get this in 1-2 weeks. You can skip this process, but we highly recommend that you do this to get access to Google Insights as well as respond to reviews.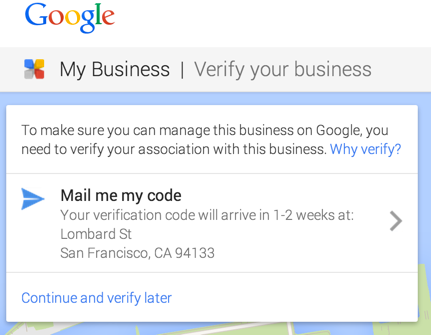 Step 4. While waiting for your verification, you can already customize your public profile. The usual stuff – your tagline, a short company description, a recognizable profile picture. After that, you can already share updates and content.
Now that you have a Google+ account, you have strengthened your search engine presence and you've increased your chances of being found by travelers on Google Hotel Finder.
You're halfway through this 10-day marketing strategy! Give yourself a pat on the back for a job well done!
Day 6: Set Up Your Hotel's Tumblr Account
If you're not familiar with Tumblr, that's okay. While it is popular, it can be overshadowed by the more mainstream social media networks. However, Tumblr is more than just social media! It's a microblogging sites and while its main feature is photo-sharing, it's more customizable say, compared to Pinterest. Since it's essentially a mini-blog, you can customize the look of your Tumblr page to reflect your hotel's brand – something that you can't do with other photo sharing social networks.
Also, you can share more than just images. You can share quotes, music, links, etc. It's a great way to provide travelers with a multi-sensory experience of your hotel online.
So, how do you sign up for Tumblr? It takes only 30 seconds to do so!
Step 1. Go to https://www.tumblr.com/ and enter your email, your chosen password and a username.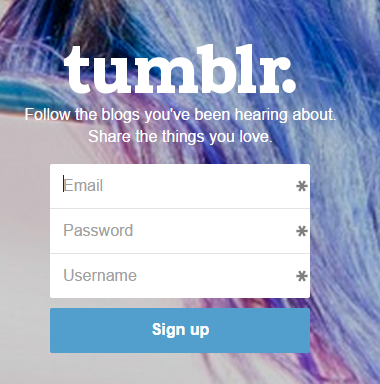 Step 2. After signing up, you will be asked by Tumblr to follow five blogs. You can skip this and you will be directed to your dashboard where you will be asked to confirm your email.
Step 3. Go to your inbox and look for Tumblr's email. Click on the provided link and you're done verifying.
Step 4. Customize the look and feel of your blog and start sharing content!
Easy breezy! Now you have another platform to share content and promote your hotel. Tumblr entries are re-blogged several times and shelf-life of Tumblr-hosted content are very impressive. So, you've just added a great marketing tool to your arsenal.
Day 7: Create an Instagram Account
Instagram is the fastest growing social media networking mobile app. And with Facebook's purchase of this photo-sharing platform, better things are yet to come!
As mentioned, Instagram is the fastest growing social networking mobile app with 200 million active users and 60 million photos shared per day. If you want to boost your hotel's mobile presence, Instagram is a powerful tool to share content, connect travelers and drive bookings to your hotel website.
Signing up for an Instagram account is as easy as 1, 2, 3!
Step 1. Download the Instagram App from the App Store or Google Playstore.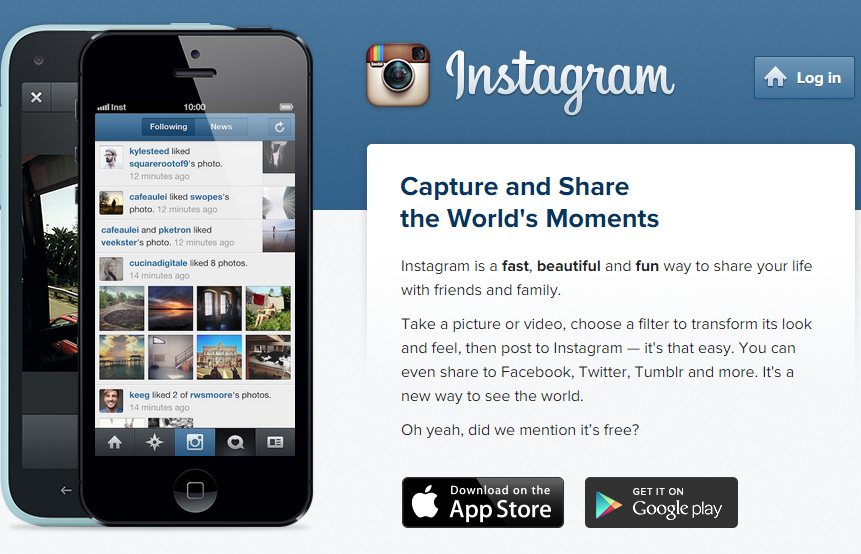 Step 2. Register using your email or using your Facebook account. We recommend that you use the Facebook sigh up option for consistency and to maximize the integration between Facebook and Instagram.
Step 3. Sign in to your Facebook account if you're logged out. Voila! You have an Instagram account for your hotel!
Now, you can start sharing visual content to engage with travelers, build relationships with them, promote your property and increase your bookings. If you want to learn more about Instagram's policies for business, you can read all about them here.
Day 8: Set Up Social Media Monitoring
Social media marketing is not a launch and leave endeavor, especially because people talk about brands and businesses round the clock. You have to constantly monitor what travelers are saying, what your competitors are saying, and what influencers are saying. Close monitoring spells the difference between a victory and a crisis.
There are different social media monitoring services that you can use to do this:
Google Alerts. Probably the most popular and most easy to use. You can set up several alerts and Google can send this to your email or feed as it happens. And it's free! https://www.google.com/alerts
Perch. Perch is a mobile app that you can download and instantly gives you a "bird's eye view" of what people are saying about you and your competitors. It pulls mentions of your hotel and your competitors from Facebook and Twitter, Yelp, Google+, Instagram, Foursquare, Groupon, and Living Social and Perch consolidates everything in one place. Best of all you can access it via your mobile phone so you can monitor what people are saying wherever you are. Oh, and did we mention it's free? http://perchapp.com/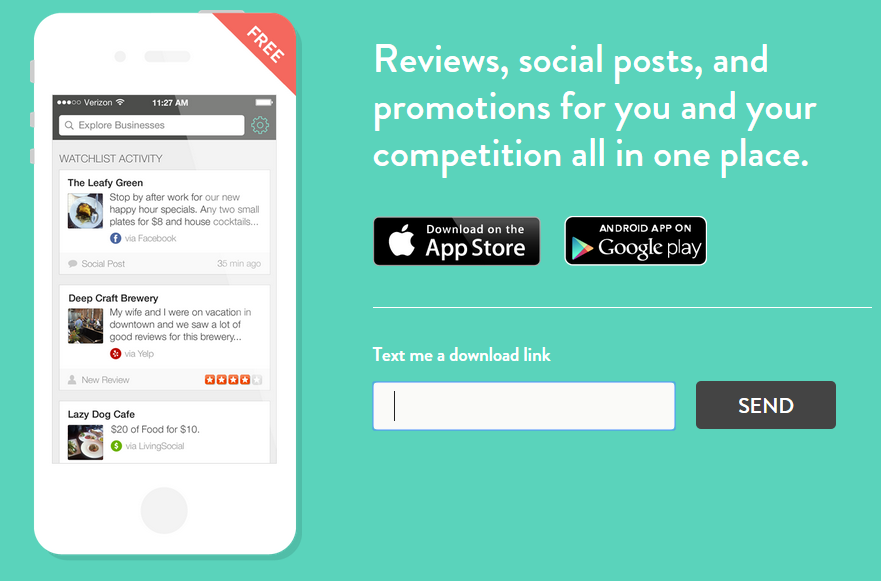 Mention. Unlike Google Alerts and Perch, Mention is not free and there are different pricing plans available depending on your budget and your needs. The good thing about Mention is you can export data for better analysis and you can analyze by source, tonality and language. Another advantage is that you can assign tasks to your hotel staff to reply to these social mentions as you see fit.
8 days down, two more to go!
Free Guide: Get 35 Best Ways to Respond to Guest Reviews
Day 9: Automate Your Social Media Marketing
You have a Facebook Page, Twitter, LinkedIn, Pinterest, Instagram, Tumblr and Google+. For a busy hotelier or hotel manager, this can be a lot to manage. In fact, the top reason why a lot of hotels don't have a sustained social media marketing effort is lack of time.
This is where automation comes in. Instead of logging into your different social media accounts every day, you can access all of them in one place. Then, you can schedule posts to get published automatically – just choose a date and time!
Checkout Buffer at https://bufferapp.com/. It's free account can help you manage your Facebook, Twitter, LinkedIn and Google+ Pages in one place and allows you to schedule 10 posts. If you want more than that, you can upgrade to an "Awesome" account that will allow you to connect 12 social profiles and schedule an unlimited number of posts.
Social media automation apps such as buffer will definitely make it much easier for you to manage your social media marketing efficiently and effectively.
We're at the twilight of this marketing road map. Lastly…
Day 10: Promote Your Social Media Assets among Your Hotel Guests
While social media marketing is virtual in nature, there's no reason why you should not promote your social media assets among your hotel guests. When travelers inside your hotel, they are your captive audience – meaning, you don't have to exert tons of effort to get their attention because they're already there and you have access to them. All you need is to spark that conversation.
To do this, SmartGuests.com has affordable and effective tools such as the Social Bucks and Like Us Cards. Our Social Bucks is a way of encouraging social media engagement while your guests are staying in your property by incentivizing them. You give the Social Buck to your guest upon check in and explain to them that if they post a photo of them at your hotel on your Facebook wall during their stay, they can surrender the Social Buck for a special token.
Our Like Us Cards are self-explanatory. They basically provide your guests with a visual prompt to Like Your Facebook Page. You can include this in their welcome packet or place the card somewhere in their room.
That's a wrap! 10 days! Just a few minutes per day! Follow this simple guide and you will have a good foundation for your social media marketing strategy in 10 days. Simple, yet effective. Good luck!