How "Sociable" Is Your Hotel? The Hospitality Industry and Social Media Marketing
Does your hotel need social media?
The question is not really whether you should be doing social media or not. It's how well you do it.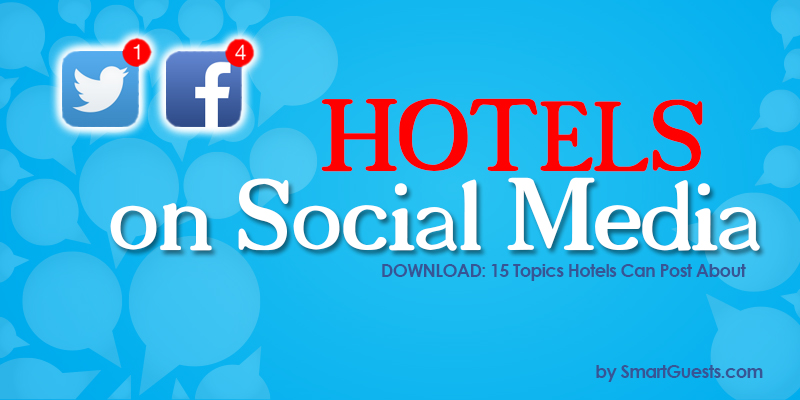 When do I need to do social media marketing? You needed social media marketing a couple of years back or even sooner.
It was a writing on the wall when a few years ago, marketing gurus talked about how social media will change the way people interact with products and services in the future. Well, that future has come and hotels who have not yet embraced social media marketing are losing potential guests day in and day out.
The Two Most Probable Reasons Why You're Not Using Social Media… Yet
What's puzzling in this scenario is this – social media marketing is relatively inexpensive (almost free) compared to other marketing channels such as advertising, but still, very few hotels invest in strengthening their social media presence. Why?
Here's our educated (and most probably accurate) guess. We believe that hotels have a hesitant attitude toward social media marketing because of two main reasons: (1) they don't see the benefit and (2) they don't know how to do it.
Social Media Can Affect Your Hotel's Booking Performance
For many years, marketers struggled to quantify how social media marketing affects a hotel's revenue, but today, there is hard evidence, concrete statistics that will demonstrate how social networks influence how people choose hotels.
According to an infographic from BestHospitalityDegrees.com, 33% of travelers changed their hotel bookings after using social media on research. In a separate infographic published by Hotel-Blogs.com, 69% of all travel companies including hotels saw traffic growth from Facebook and 46% saw traffic growth from Twitter. In a survey, 52% of the respondents said that their friends' photos on Facebook inspired their next trip. Another survey conducted by Bank of America Merrill Lynch revealed that 55% of Facebook users use the site to seek travel advice. As for the social media dark horse Google+, Hotel Marketing.com cites the use of the said social networking site as one of the top trends in hospitality marketing in 2014 as it gains more members and as its impact on Google's search algorithm becomes more evident.
It's clear as day – if you use social media marketing correctly, the benefit to your hotel goes beyond the number of Followers or Likes you have. Social media marketing can potentially boost your bottom line.
How Can You Use Social Media in Marketing Your Hotel?
The real answer to this question is endless. The sky is literally the limit. Your only limitation is your creativity. However, in the interest of giving you something to work with, below are some initial tactics you can easily implement.
Special Offers
Are you aware that you can create offers that can only be redeemed by those who "Like" your Facebook page? If you're just starting out on Facebook and is still in the stage of building your community, this is something you can do.
Provide Useful Content
The key to being successful in social media is not to talk about yourself all the time. Yes, it takes a lot of restraint and control, but people don't like "Narcissist brands" who have nothing to say but "me, me, me." Provide content to your followers that they can actually use such as travel tips, places to visit near your hotel, sample itineraries, etc.
Related Topic: Picture Perfect: Tips for using Photos in Your Hotel's Social Media Posts
Customer Service
Open your social sites to feedback. It's better that they publish their comments on your social assets that you can control rather than ranting about you on review sites such as TripAdvisor. Answer all their questions accurately and promptly. Serena Williams has this gimmick on Twitter called Serena Friday wherein she answers all her fans' questions every Friday. You can have this special events over your social networks as part of your customer service.
Again, every day that you're inactive on social media, your hotel is losing thousands of dollars in potential business. At the end of the day, you have very little (or virtually nothing) to lose and everything to gain, right? Social media is a marketing reality. Use it to your advantage.
SHHHHHHHH…Last Tip: Get ideas from your competition!
Related Topic:  Claim Your Hotel's Listing on these Sites Now
Get more Ideas, Expert Advice & Tools. Subscribe to our SmartGuests Newsletter.