How To Manage Hotel Reviews Like A Pro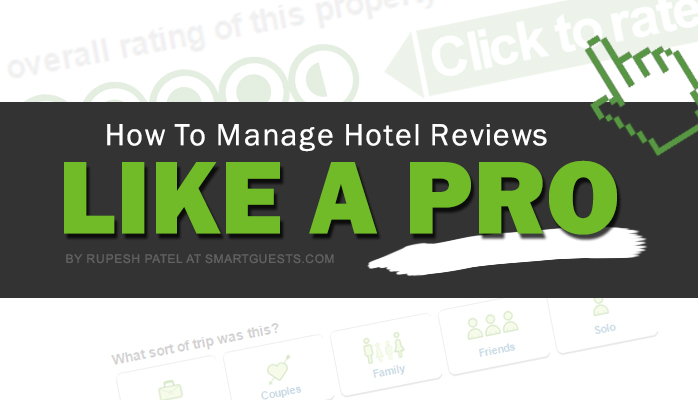 Top online travel agency Hotels,com listed "Checking Guest Reviews" as one of the Top 10 travel trends for 2015. In our opinion, it's not only a trend, it's here to stay. With the increasing number of online bookings being made year in and year out, it won't come as a surprise if online reviews will have a bigger influence on how travelers book hotels.
When you look at the TripAdvisor listings of big hotel brands, you get a sense of efficiency on how they deal with online reviews, plus the fact that the percentage of their guests who publish a review is pretty high. You might be wondering – is managing online hotel reviews a rocket science?
Well, not really. It's not easy if you don't know what to do. However, if you have the tools and the knowledge, you can go toe to toe with these big hotels when it comes to managing your hotel's online reviews.
To jumpstart your year on the right note, here are a few tips on how you can manage your hotel's online reviews like a pro.

Be proactive. A lot of travelers will publish reviews about their experience at a particular hotel even without prodding, but there are those who need a little nudge before they do it. Remember, the quantity of reviews that your hotel has is important because travelers read anywhere between 6 to 12 reviews online before booking. Use tools such as SmartGuests.com's Hotel Review Cards – a business card that has a prompt behind it to compel your guests to publish a review about their stay at your hotel online.
That said, the single best way to get more reviews for your hotel is to deliver an exceptional experience to your guests. If you gave them a positive experience worth raving about, then you'll have no difficulty asking them to publish a review. Train your staff to go above and beyond the ordinary and foster a guest satisfaction-centric culture in your hotel.
Customer Engagement Expert, Brett Patten (brettpatten.com) shares his insights with us regarding customer reviews. He explains
" The context in which you ask is very important, as well as in the way you ask for an advocacy favor from a guest. If you have to ask for a positive review or rating then there's something missing in the strategic design and make up of your business. More than likely your internally focused on what's in it for me, than being externally focused on your customer coming into your business, as well as being very much customer/guest centric driven hospitality enterprise"
Whatever your hotel's review strategy is, make sure you offer a personalized, customer-focused experience first!
Related: Learn how to boost staff-guests engagement at your hotel.
Personalizing a guest's hotel experience is a great way to drive advocacy. Surprise arriving guests with a customized candy bar with their name on it… Get SmartGuests.com's Free Candy Wrapper PDF Template offer here.

As important as getting online reviews for your hotel is responding to the reviews that your guests publish online about your property. It's really non-negotiable – you have to respond to all reviews – positive and negative – in a timely manner.
It sounds impossible with all the things going on in your day-to-day work, but it has to be done. According to a research commissioned by TripAdvisor, an appropriate response by the management to online reviews improves the perception of guests for that hotel.
Dedicate an hour or two, twice or thrice a week to respond to reviews. When you respond to negative, make sure that if you said you're going to do something about it that you will indeed carry out this promise. Need help thinking of different ways to respond?
Download our Free Guide: Get 35 Best Ways to Respond to Guest Reviews.
Learn more about boosting your online reviews with these related articles:
What to Do When Guests Threaten Your Hotel with a Bad Review?
Ten Fast Ways to Becoming Highly Ranked on TripAdvisor
2 Tools that Remind Hotel Guests to Post Reviews
These are just a couple of tips to manage your hotel's online reviews like a pro. Subscribe to our blog and you will learn more as we share our best practices and other tried-and-tested tips.