How to Pass Your Next QA Inspection!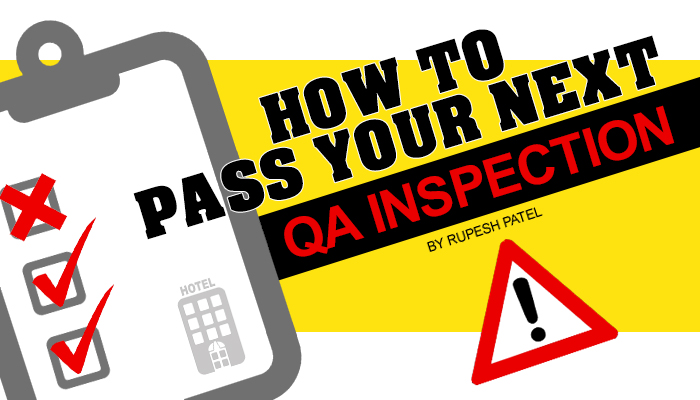 Learn how to pass your hotel's quality assurance inspection
How did your hotel's last Quality Assurance (QA) inspection go? Did you pass with an awesome score? Or could it have been better? In this article, I share best practices and tips to pass your very next QA inspection.
Like many of you, I've been through my share of nail biting inspections. You know the kind that keeps you up at night (when are they coming?!?!). Then, that semi-magical day when the brand's inspector hands her card to the front desk and says "I am here to fail you and put you out of your misery" – haha.. Just kidding!
(If you liked this, please hit the Like button + share it with 3 other hotel professionals  – I'm sure they'll appreciate you – Thanks in advance!)
Seriously, no matter how many times we go through a QA inspection, it can still be a nerve-wracking experience. As a hotel franchise, it's extremely important for us to ace these inspections, so we can continue leveraging on the brand's objectives and make more money, of course!
Receiving an outstanding score is a testament to the overall quality, high standards and most probably the profitability of your property. Besides, I'm not a fan of losing and a hotel QA inspection is like a game to me. Let's see how many points we can keep and how we can get to the finish line without getting a flag!
"No one is perfect. No hotel is perfect. We all make mistakes. If we give it a 110%, we know we've tried our best!"  – Rupesh Patel
I'm pretty sure you just had an inspection or your expecting one real soon. Here are 6 actionable tips that have helped my hotels pass with flying colors and yours can too!

If you're a franchised hotel, it's imperative you understand the brand's standards and rules of operations.
Get the latest version of the standards from the brand's portal site
Print out the self-evaluation form. And actually perform a mock-QA
Be sure to contact your Franchise Area Director or brand representative to have them do a QA run-through with you. They can give you an "outside or guest's perspective" of the condition and cleanliness of your hotel. Plus they typically know what will pass or fail
If you don't know if something will pass, ask another GM or reach out to the brand.
Get your waivers together and have them ready to show (if applicable)

Whether you're brand new to the property or have been there for years, to start on the right path to a passing score, you should review the last 2 or 3 inspection reports. This will prevent you from getting hit on stuff that should have already been corrected. Plus, you'll know what areas of the hotel you really need to concentrate on the most.
Share and review past reports with all employees

After reviewing the standards and going over past inspections, you now know what items are crucial to pass this test. Now its time to make an in-depth checklist. Please make sure all department supervisors are involved in making this list. For those that want to keep their list digital, use the PunchLists App for iOS or Use Evernote.
This list should include;
Break the list up into areas, sections, departments for efficiency
Deficiencies or reoccurring items that failed in the past
Prioritize major and minor items (guest impact)
Due dates
Personnel assigned to tasks
Comments

Passing your QA inspection should not only be the responsibility of your hotel's management team alone. Your staff – who are on the front lines of your hotel's operations – should be involved. Delegate tasks to team members and hold everyone accountable to a key areas. It's time to execute the list!
Have each department go over their own standards
Have departments inspect other departments
Follow up with team members on status and completion
Optional: build an incentive program
Don't lose easy points for a missing Name Tag or Uniforms
Make sure you have full stock of the "Forgot Me Amenities"…toothbrush, comb, deodorant, etc – at the front desk
Get  the owner involved! – especially for capital expenses that could positively help business growth

Can you taste that A+++ score yet? We'll, you're headed in the right direction! Now that you and your team have been diligently fixing room issues, deep cleaning, checking and double checking. It's time to inspect.
As a manager, you should actually be walking through your hotel on a regular basis. If you have a smaller property, go through all the rooms. Properties with  75 or more, have a few people inspect with you, including rooms supervisors. Pay attention to articles inside/under/around/behind beds and dressers.
I once found moldy food in a guestroom fridge – it was probably there for a week or more! And I definitely don't want to mention what I found between the mattress and box spring! Oh and if you find money in a room during an actual inspection – you get hit!
Pay close attention to…
Dust
Hairs – in tubs, around toilets, on beds, on mattress pads – NO HAIRS!
Check batteries in alarm clocks, tv remotes, smoke detectors
Burnt bulbs or the correct wattage
Dirty and stained linen or terry
Details matter
" Your hotel is being inspected everyday, by your guests" – Rupesh
I saved my favorite for last. When it comes to guest satisfaction, all hotel brands require their franchises to be in compliant with a minimum standard threshold. This means your hotel needs to be above a certain set number to pass a portion of your QA. Many brands use guest feedback software such as Medallia, to solicit, track and measure guest satisfaction at your hotel.
So how do you improve guest satisfaction scores? 
First, you're going to assure your hotel meets and exceed the standards set by the franchise. Today's guests are smart, they know when you've cut corners and reduced quality. Just providing a clean room with a cable tv isn't going to cut it.
To get great guest feedback, your hotel needs to go above and beyond with exceptional service. Start by training your team (if you don't know how, I can refer you to some amazing hospitality customer service trainers).
Here are some articles I wrote on improving service at your hotel:
5 Hospitality Phrases Guests Remember Most
How to Boost Staff-Guests Engagement at Your Hotel
Inexpensive Ways to Deliver Personalized Experiences to Your Hotel Guests

Next, you'll need to get direct feedback during, at check-out and after their stay. To do this, you'll need to ask. You'll never get anything if you don't ask for it.
During – "Mrs. Smith, how is your stay with us? Is there anything I can do to make it more enjoyable?"
At Checkout – "Mr. James, How was you stay? What is one thing we can do to make your next stay even better?"
Related: How to Prevent Guests from Leaving Unhappy
Post Stay (email or handwritten card) – "Ms. Perry, It was such a pleasure hosting you and your family. Because we receive feedback from wonderful guests like yourself, we continue to improve. I would love to hear about your experience with us, please reply….."
Related: 2 Tools that Remind Hotel Guests to Post Reviews
Now that your hotel has received feedback, issues must be corrected. Resolving complaints and/or recovering guests is very important in improving your guest satisfaction scores. A happy, satisfied guest will be more than happy to give your hotel the positive feedback it deserves!
Passing your next QA inspection can seem challenging, but if you use these tips and remain calm, cool and organized, you have nothing to worry about. Just think about how you're going to feel when it's all over and you just PASSED – Congrats!
Expert Advice:

Don't wait til the last minute to start improving.

Don't take it personal.
Stay positive
You're not alone. Ask for help

Have a successful day!
– Rupesh Patel